Although the report is not beyond criticism, hardly anyone would disagree that Dhaka is highly unliveable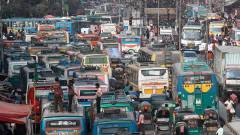 Dhaka is the worst city in the world to live in, according to the Economist Intelligence Unit's global liveability study. Our capital has consistently been in the top ten of this unenviable list in recent years, and this year has won the distinction of being number one, "beating" cities like Tehran, Tripoli, and Karachi.
The largest city in Bangladesh scored abysmally low on the study which tries to assess how tolerable a city is based on certain indicators – crime levels, threat of conflict, quality of medical care, levels of censorship, temperature, schools and transportation links. Cities are given a score out of 100, a lower score indicating less liveability. Dhaka scored 38.7 out of 100.
Although the methodology of the report is not entirely beyond criticism, hardly anyone would disagree that Dhaka is highly unliveable. Unacceptable road and traffic conditions, astronomical levels of environmental and water pollution, food contamination, difficulty to conduct business activity, bureaucratic corruption, a broken law and order system, and political instability are causes of just some of the woes faced on a day to day basis by inhabitants of this city. EIU's ranking may be controversial, but there can be no doubt that Dhaka is in need of drastic improvements.
We may start by looking at the cities that consistently get ranked among those most liveable – cities like Vancouver, Melbourne, and Vienna. Our city is still a long way from being ranked among the best cities to live in, but we can at least work towards edging ourselves off the ignominious list of the world's worst.
Source: Dhaka Tribune