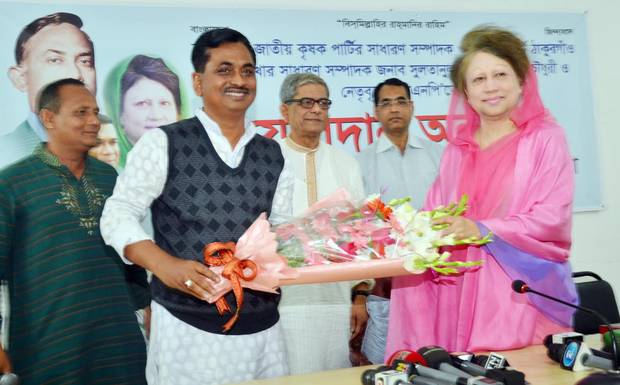 Khaleda Zia has renewed her call to the Awami League to call early general elections.
The BNP Chairperson alleged that the ruling party was trying 'forcibly' to stay in power and urged it to initiate talks for fresh balloting.
"Leave the guns and sit for talks. The results will be dire if you think you can stay in power by shooting down people," she warned the government at a programme in her Gulshan office on Monday night.
The BNP chief also announced that she would embark on a district-level tour after the fourth Upazila Parishad elections ended on Mar 31.
Addressing the government, she said 'attempts to scare the people' would not work. "People want a free and fair election under a non-party government.
The government will have to leave power through the elections, she said before warning that otherwise, it will face movement.
The BNP has been demanding fresh polls after boycott of the Jan 5 parliamentary election. But ruling Awami League leaders have rejected the call and told them to wait for five years.
Khaleda said, "People did not cast their votes on January 5. They will have to take it to the streets if you (Awami League) keep your grips on power."
Also, the international community was also demanding a new election with participation of all parties, she added.
The BNP chief also alleged that the government was violating human rights by killing, abducting and torturing the leaders and activists of the opposition.
She again claimed the government was rigging the balloting in Upazila Parishad elections.
The BNP and its allies are contesting the Upazila elections and they are clearly ahead in the results declared so far in two of the six phases.
Khaleda on Monday night was addressing the event organised to mark Thakurgaon Jatiya Party leader Sultanul Ferdous Namra Chowdhury's joining the BNP. At least 50 other leaders and activists of HM Ershad's party joined BNP along with Chowdhury.
She congratulated the new members and asked them work for win in the Upazila elections.
Sultanul Ferdous is the current chairman of Thakurgaon Sadar Upazila Parishad. His father Rezaul Haque Edu Chowdhury was a member of Ershad's cabinet.
Source: Bd news24