Leave Dr. Yunus alone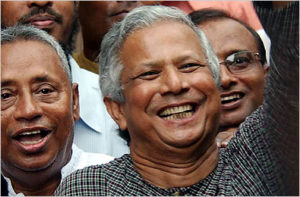 Once again, Sheikh Hasina and her Awami League stalwarts have started another tirade against our Nobel Laureate accusing him of collusion with the World Bank to stop the Padma Bridge construction loan. The press is abuzz about how a group in the country is working against the prosperity of Bangladesh. Every day, when you open the television channels, one cannot avoid noticing the tirades again Yunus or her political opponents. That her good AL workers have been in trouble because of the smell of corruption detected by the World Bank. Instead of suing the World Bank, her tirade is against the civil society, a Nobel Laureate, and the opposition.
Professor Yunus is Bangladesh's most respected international figure. The government of Sheikh Hasina, which, according to Western diplomats, regards his international profile as a political threat. Hillary Clinton, the former Ireland president Mary Robinson, and the former World Bank president James Wolfensohn, launched Friends of Grameen to save the Grameen Bank from a government takeover. Heeding all appeals, in a stubborn move, the government took control of the bank. Sheikh Hasina, who said the bank was "sucking money" from the poor and using them as "pawns to get more aid." Yunus said government control would lead to the bank being used to help "win elections" and fuel corruption, but finally, he lost in the Bangladeshi courts. The majority of the institutions like the civil service including the judiciary are packed with Awami League appointees or are enticed with all types of perks if they follow the government's will. Otherwise, they will lose their benefits and maybe, jobs.
Charged with defamation by a politician, Professor Yunus had to appear before a court in a Mymensingh for uttering in 2007 the perceived truth about Bangladeshi politicians: they are corrupt and after money. Wouldn't every non-politician Bangladeshi agree with that statement? Professor Yunus was dragged before a court to assuage the hurt feelings of an aggrieved politician! How ridiculous! How silly!
For Bangladesh to prosper, it is imperative that the government gets out of the way, and lets the individuals innovate. The government should be promoting the creative genius of the likes of Professor Yunus and Sir Fazle, like progressive nations would have done, rather than attempting to discredit them. The New York Times' Pulitzer Prize-winning columnist, Nicholas Kristof, wrote a blistering article on January 5, 2011, criticizing the Bangladesh government's vendetta against Professor Yunus. Ordinary Americans are stunned, asking us: "Why are you demolishing your national icon?"
The Nobel Committee thoroughly investigated his background and made sure he had no skeleton in the closet before awarding him the Prize. They made certain they would not be embarrassed later. Before President Barack Obama awarded America's highest civilian award, the "Presidential Medal of Freedom" to Professor Yunus in 2009, US intelligence agencies, too, carried out a thorough investigation of Professor Yunus's background, which was found to be squeaky clean. Additionally, he was awarded the Congressional Medal of Honor, a bipartisan way to congratulate a great man. How could we destroy an icon of Bangladesh?
The Economist Intelligence Unit's Democracy Index of 167 countries scored on a scale of 0 to 10 placed Bangladesh's number at 84 nearly in line with Pakistan. Thanks to Sheikh Hasina and the Awami League, we became a hybrid regime that is a notch above the authoritarian governments. Recently, her government installed a party picked Chief Election Commissioner preparing for rigged voting like what happened on 5th January 2014 and subsequent municipal and local elections. We are about to see a total demolition of democracy and the rise of a full authoritarian regime in Bangladesh.