The damaged Biman airship is now ready to fly after three months' remaining idle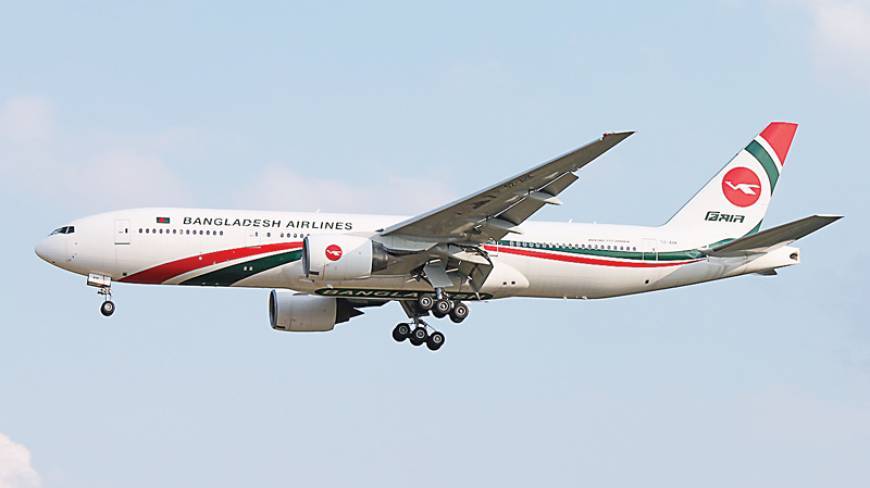 Boeing 777-200ER, a leased aircraft of Biman Bangladesh airlines, has incurred  over Tk100 crore loss for having been grounded over the past three months due to engine damage.
The aircraft, however, is now ready to fly after its repairs in Egypt following a long procrastination.
The leasing airlines, EgyptAir, was dilly-dallying to replace the engine while Biman had to count Tk10 crore per month as rent. In addition, Biman will bear all maintenance cost of the aircraft.
EgyptAir was bound to carry out the task of engine replacement, according to the deed Biman signed with the airlines.
Meanwhile, the national flag carrier had been incurring a loss Tk1 crore per day, as it was not flying. The leased Boeing was in the hanger of Hazrat Shajalal International Airport for about two months instead of making round commercial trip.
Moreover, at the end of May, EgyptAir took the aircraft to Egypt for its repairs and finally it arrived at Dhaka yesterday after the engine replacement.
Asked, Biman Managing Director & CEO Kyle Haywood told The Dhaka Tribune that the aircraft is repaired and it has arrived at Dhaka yesterday.
He, however, didn't answer about the loss the aircraft incurred because of remaining grounded over the past three months.
The state-run airlines, Biman, leased two Boeing 777-200ER aircraft from EgyptAir to resume Dhaka-New York flight.
An official of engineering department of Bangladesh Biman said one Boeing was grounded in early April while it was returning from Singapore.
These two aircraft were grounded at least 15 times in the last one year due to technical glitch. It was also grounded twice at Frankfurt in Germany. The Biman management planned to replace the engine of the Boeing aircraft as it was fully damaged.
Biman took the two aircraft for five years on dry lease (Leasing aircraft without crew) at the beginning of 2014.
The national flag carrier did so only to resume flight on Dhaka-New York route as it is not allowed to land in US territory.
As EgyptAir falls under the category-1 aircraft list, Biman leased the aircraft from that country.
According to FAA rules, only category-1 aircraft can land in USA while Biman had been category-2 from a few years back.
The then managing director of Biman, Kevin Steele, also failed to resume Dhaka-New York flight.
Biman stopped operation on the route in 2006 because of a huge amount of loss.
Later, it leased Boeing 777-200ER in short haul route like Kuala Lumpur, Singapore, Middle East which is costly, according to Aviation experts.
It was not wise on the part of Biman to lease two Boeing 777-200ERs from EgyptAir since the aircraft are used for non-stop and long-haul flights, an official of Biman said, wishing anonymity.
It would have been much better if Biman had leased some planes suitable for short and medium haul flights, he suggested.
Source: Dhaka Tribune