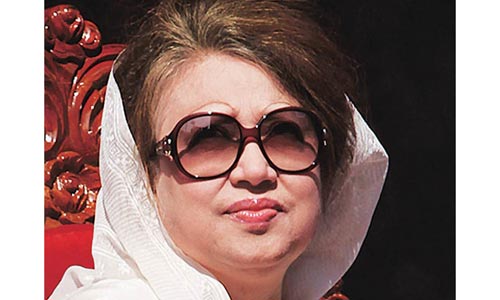 Bangladesh Nationalist Party chairperson Khaleda Zia on Tuesday will surrender before a trial court in Dhaka and seek bail as the court has issued a warrant for her arrest in a case filed over an arson attack on a bus at Jatrabari in the city last year.
'As BNP chairperson is a law-abiding citizen and respectful of law, she'll surrender before the Metropolitan Sessions Judge court on April 5,' said her counsel Sanaullah Mia.
He said Khaleda's lawyers will submit a petition seeking bail for her in the case filed with Jatrabari Police Station on January 24.
Earlier on March 30, a Dhaka court issued warrants for the arrest of Khaleda and 27 BNP-Jamaat men in the case over the arson attack at Jatrabari in the city during the BNP-led alliance's blockade.
Dhaka Metropolitan Session Judge Mohammad Quamrul Hossain Molla passed the order after accepting the chargesheet against 38 people submitted by Jahidul Islam, sub-inspector of the Jatrabari Police Station.
The order came after the investigation officer showed Khaleda and 27 others fugitives, and appealed to the court to issue warrants for their arrests.
On January 23 last year, at least 31 people suffered burn injuries after miscreants hurled two petrol bombs at a bus in Jatrabari intersection. One of the injured later died at Dhaka Medical College and Hospital.
Sub-inspector of Jatrabari police station KM Nuruzzaman filed two cases — one for killing and another for hurling petrol bombs — under the Special Powers Act on January 24, making Khaleda the mastermind of the attack.
Source: New Age