Fresh movement after recasting of JCD committees, she says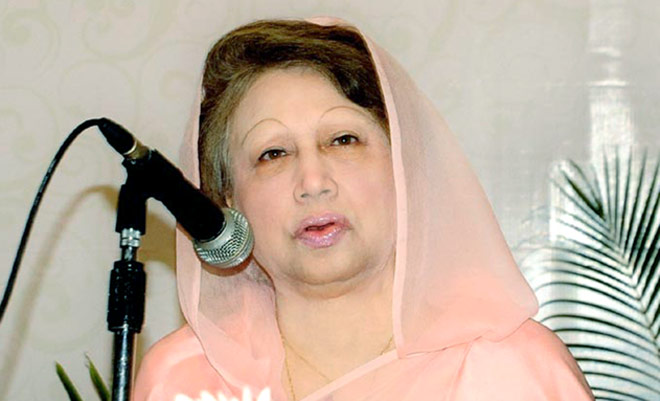 Blasting the Jatiyatabadi Chhatra Dal leaders, particularly that of Dhaka University units, for their 'failure to wage a strong movement' in the city before the national election, BNP chairperson Khaleda Zia on Tuesday night said she will take an initiative to overhaul her party's student wing soon dissolving its existing committees.
At a meeting with the JCD central and Dhaka University unit leaders, the BNP chief also said the new JCD committees will be formed with regular and meritorious students before initiating a fresh movement against the current regime, a JCD leader present at the meeting, told UNB.
She, however, said the process of forming the fresh JCD committees will start once the JCD central leaders, including its president and secretary, are released from jails.
In the nearly two-hour meeting that began around 9 pm at her Gulshan office, Khaleda also asked the JCD leaders to explain their role during the previous movement, especially from October last year to January 5.
Earlier on February 10, the BNP chairperson also lambasted the BNP Dhaka city unit leaders for their failure and inactive role during the anti-government movement.
According to the meeting sources, Khaleda expressed her deep frustration over the role of the JCD central and Dhaka University unit leaders in the anti-government movement.
The former premier got annoyed and reacted sharply as some JCD leaders tried to defend their inactive role in the movement.
"I' have all the information about what you did and where you stayed during the anti-government movement," another JCD central leader present at the meeting quoted Khaleda as telling them.
Expressing her utter frustration over the JCD DU unit's role as they could not even bring out any procession on the DU campus during the movement, the BNP chief said she wants the Dhaka University unit to be recast immediately with regular students.
Then, she said, the other committees will be formed.
As some student leaders told her that JCD could not function properly due to influential BNP leaders' interference and committee business, Khaleda questioned, "How students could give money for being included in committees and where they get the money from and how they make money?"
Mentioning that the government has imprisoned many JCD leaders and activists, including top ones to cripple the BNP student body, the JCD leaders requested Khaleda to take strong legal measures and provide legal assistance by the party senior lawyers to get them released.
JCD student affairs secretary Shaheed Uddin Chowdhury Anee, acting chief Saiful Islam Feroz, acting general secretary Obaidul Haq Nasir, JCD, DU init president Mahidul Islam, general secretary Masud Khan were, among others, present at the meeting.
Source: UNBConnect