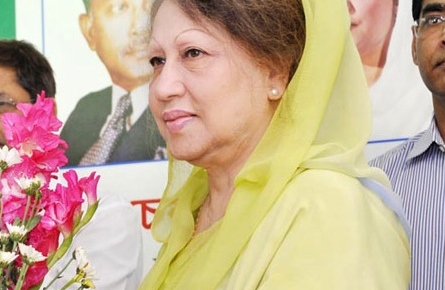 Condemning the killing of 'Channel I' programme presenter Shaikh Nurul Islam Faruqui, Bangladesh Nationalist Party chairperson Khaleda Zia on Thursday said his murder has proved again that a reign of killing has been established in the country.
In a statement, she said, "The country's people are now living in such an uneasy calm and anarchic situation where an Islamic scholar has been killed by miscreants even after staying with his family members."
"Country's noted citizens, let alone the political leaders and activists, are not safe from the dangerous grasp of misrule established by an illegal regime," the BNP chief alleged.
She said the country's people are no longer safe in the hands of the current 'illegal' regime as they are passing their days in panic.
Miscreants slaughtered Nurul Islam Faruqui, also the Khatib of High Court Mosque, at his East Razabazar house in the city on Wednesday night.
Voicing her deep concern over the gruesome murder, Khaleda, also a former Prime Minister, said the offenders disappear after every killing, abduction and the incident of enforced disappearance as the government patronises them.
"The atrocious scenario of killing and bloodbath persisting in the country has been portrayed through the brutal murder of Nurul Islam Faruqui," she observed.
The BNP chief alleged that the government is deliberately pampering the criminals, terrorists and their godfathers to create panic among people so that it can perpetuate power it illegally grabbed. "There's no alternative (for them) to resort to misrule and anarchy to keep holding office illegally."
Khaleda said the terrorist, unjust and illegal and anti-social activities are the last resort for the illegitimate regime as the country's people are not with it. "That's why the terrorists now dare to be desperate. This government will surely face very dire consequences one day for the bloodsheds it caused to the country through killings."
Khaleda demanded the government immediately arrest the killers of Faruqui and mete out exemplary punishment to them.
She also prayed for the eternal peace of Faruqui's departed soul and conveyed her profound sympathy to the bereaved family members.
In another statement, BNP acting secretary general Mirza Fakhrul Islam Alamgir also condemned and protested the killing.
Source: Prothom Alo