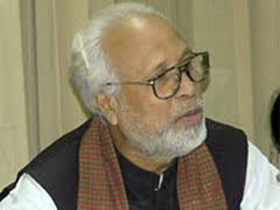 Valiant freedom fighter Abdul Kader Siddiqui on Wednesday called on the United Nations to take quick initiative to resolve Bangladesh's current political crisis.
Addressing a press conference, the president of Krishak Shramik Janata League underlined the importance of the role of the army, within the purview of law and the constitution, in restoring peace and stability.
As the UN secretary-general Ban Ki-moon sent letters to prime minister Sheikh Hasina and BNP chairperson Khaleda Zia requesting them to sit for dialogue, Kader Siddiqui said it is high time for the UN chief to reevaluate the role of Bangladesh in the United Nations.
He continued his sit-in demonstration in front of his party office in Motijheel in Dhaka city for 22 days, demanding resolution to the crisis.
The politician, who had been on exile in India for quite a number of years till 1990, further requested the Indian authorities to withdraw their support to the Sheikh Hasina regime.
"India's image to the people of the country will be damaged if she (New Delhi) gives a minimum of support to this (AL) government," he said recalling that India had great contribution to Bangladesh's war of liberation. "Let India not lose the gratitude in our heart," he cautioned.
Kader Siddiqui, who formed Krishak Sramik Janata League after leaving Awami League, also expressed his 'willingness' to meet the prime minister to discuss the ongoing political crisis.
"I would like to talk to you (Sheikh Hasina). Give me some time before things go worse. It would be futile if you do so once things change," he said.
"Hold dialogue not only with Khaleda Zia but also with those who can help in this regard. Rule the country with a public mandate," he urged Sheikh Hasina.
Source: Prothom Alo