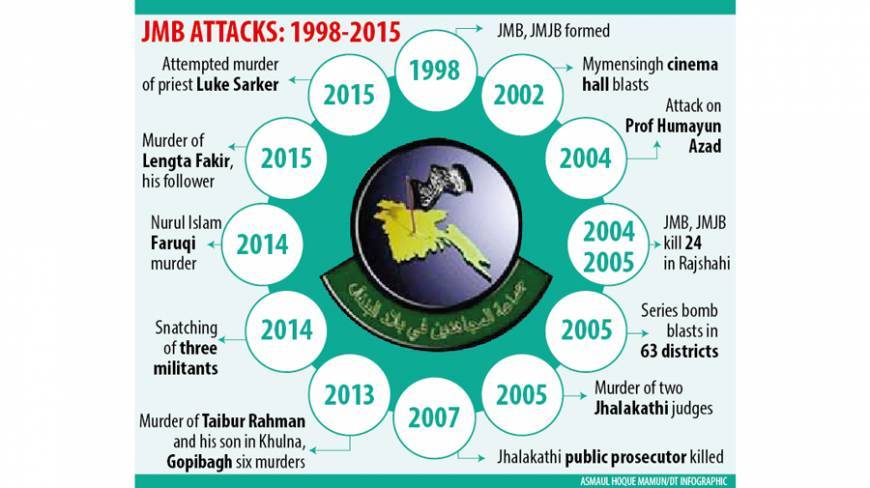 Members of banned militant outfit Jama'atul Mujahideen Bangladesh (JMB), who were unpopular for systematic attacks on secular groups and individuals a decade ago, have now resorted to targeted killings, detectives said yesterday.
In the last two years, they killed at least 13 religious scholars, pirs and shrine followers across the country by forming a number of small units of sleeper cells, a high official of the Detective Branch of police told the Dhaka Tribune.
JMB leader Faruq is the leader of the wing that carry out the attacks. He also led the snatching of three JMB men from a police van last year. Detectives said that Faruq might have left the country with absconding JMB leaders Boma Mizan and Salehin.
Involvement of the militant leader in the recent killings have been found during interrogation of its detained organiser Tariqul Islam Mithu. He was held in connection with the murder of former Power Development Board chairman Khijir Khan.
Mithu told the investigators that he and six other JMB members had taken part in the killing of Khijir, a spiritual leader.
"It is our religious responsibility to not ask the identities of the other members of the team. We met just a couple of hours before the murder. But I will be able to recognise them if they are produced before me," an official of DB police said requesting not to be named.
Khijir Khan was slaughtered on October 5 by unidentified assailants at his residence in the capital's Badda area. The police have so far arrested two people in the killing, one of who directly slaughtered Khijir, and a driver.
Mahfuzul Islam, additional deputy commissioner of DB police, said: "We are trying to find out Mithu's associates by analysing the information he provided."
The JMB, formed in 1998 mostly with former Jamaat-e-Islami men aiming at establishing Islamic rule in the country, was banned on February 23, 2005 along with its sister concern JMJB. Both the founders were executed in 2007. The law enforcers found that all the extremist groups were working together  since last year as their aim is the same.
According to the detectives, JMB's sleeper cell members are using machete and knives to kill their targeted people rather than using firearms and bombs as they believe slaughtering people is a precious work. The outfit is also collecting funds by conducting robbery to run their activities.
During the murder of Khijir Khan on October 5, the killers though that he had a large amount of cash and properties in his house.
DB Joint Commissioner Monirul Islam said that the JMB men consider worshipping mazars and pirs as a bad work.
Police also recovered a small piece of paper from Mithu's possession where the name of another pir was found.
According to the investigators, the JMB men are now operating their activities in at least 12 regional groups. When they need to contact each other they use code language and never disclose the names to others.
On September 4, a JMB member killed Chittagong's Lengta Fakir (naked saint) Rahmatullah and his associate Khadem Abdul Kader at the mazar in Bayezid area. Police have arrested five JMB members for their involvement in the killings.
On October 5, JMB men tried to kill Christian priest Luke Sarker in Pabna. Police arrested four JMB members for the attempted murder and they also confessed to their involvement.
On December 21, 2013, pir Lutfar Rahman and five others were killed by the JMB men in the capital's Gopibagh area. Presenter of Islamic programmes and Ahle Sunnat leader Nurul Islam Faruqi was killed in the capital's Rajarbagh area on August 27 last year.
On August 8, 2013, religious leader Taibur Rahman and his son Namum Manir were slaughtered in Khulna.
Monirul Islam, also the chief of DB police, suspects that the same JMB group was behind the Gopibagh and Rajarbagh killings. "We are hopeful to glean clues from Mithu during interrogation. We will also present four other JMB leaders in front of him for identification," he added.
Source: Dhaka Tribune