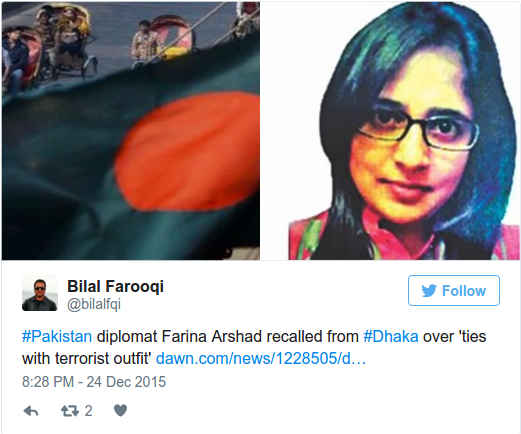 Bangladeshi authorities have arrested seven suspected militants with links to an Islamist group. The move comes a day after Pakistan recalled its diplomat from Dhaka over her alleged links with the same banned outfit.
The police raided an apartment in Mirpur, a district in the capital Dhaka, and arrested seven suspected members of the banned Jumatul Mujahedeen Bangladesh (JMB) organization. They also seized 16 home-made bombs, suicide vests and explosive material, which the authorities said could be used in planned attacks over the New Year period.
The suspects exploded bombs as police began their raid. No injuries were reported. Officials cordoned off the building and evacuated the residents.
Police officer Monirul Islam said at least three "important figures" of the JMB had been arrested.
The JMB was founded in 1998 by Shaikh Abdur Rahman, a religious preacher educated in Saudi Arabia. The group campaigns for the imposition of the Shariah Law in Bangladesh. Despite being banned by the government, the JMB members are trying to regroup and launch clandestine operations.
In 2007, Bangladeshi authorities executed six JMB leaders for killing two judges and masterminding a series of bombings across the country in 2005 that killed some 30 people. The militant organization has also been involved in targeting foreigners. On October 3, it shot dead a Japanese farmer in northern Bangladesh.
The Thursday raid followed information from a detained member of the Islamist group.
Terror link row
The raid comes just days after a suspected JMB member, Idris Sheikh, told a court in Dhaka that he had ties with a female Pakistani diplomat, whose name was quoted by local media as Farina Arshad. Shiekh told police detectives that he had received financial assistance from Arshad for his espionage trial.
The Pakistani mission in Dhaka dismissed the claims as "utterly baseless media reports… maligning a female diplomat stationed in Dhaka."
On Wednesday, Pakistan recalled Arshad from the capital, according to a Bangladeshi official.
"The female second secretary of the high commission was sent back to Islamabad this afternoon, two days after Dhaka informally asked for her departure," the official at the Bangladeshi foreign ministry told AFP news agency on condition of anonymity.
Bangladesh's Home Minister Asaduzzaman Khan said the government would take action against Arshad if the allegations against her were proven to be credible.
Islamization of Bangladesh
Relations between Bangladesh and Pakistan have been tense since 1971 when the former East Pakistan separated from the western wing after a long struggle for independence.
Islamabad has officially condemned Bangladeshi government's recent crackdown on Islamist groups linked with aiding former West Pakistan during the war of independence. It has always denied its role in the massacre during the war. No Pakistani government has formally apologized to Dhaka for the killings. Nationalist parties in Bangladesh, however, claim that the Pakistani army and its supporters killed around three million people during the war.
The 1971 war of independence continue to play an important role in Bangladeshi politics. Analyst Siegfried O. Wolf believes that those who were involved in the 1971 war crimes "are still threatening the country's peace and stability."
"They still maintain, or have established new links, with Pakistan-based terror groups as well as international jihadist organizations like 'Islamic State' (IS) and al Qaeda. There will be no peace in Bangladesh until these people and groups are brought to justice," Wolf told DW.
Bangladeshi government has also intensified its crack down on Islamist groups involved in killing secular bloggers, but Wolf thinks it is far from enough.
"Bangladesh has effectively been transformed into an Islamic state. As a result, Islamist parties have been able to assume a bigger role in the country's politics. The situation is ripe for an international terrorist group like IS to establish itself in Bangladesh. It will surely describe the executions as a 'crusade against Muslims.'"
Source: Dhaka Tribune