A mixed panel of Indian and Bangladeshi experts have strongly recommended legalisation of the cattle trade between India and Bangladesh.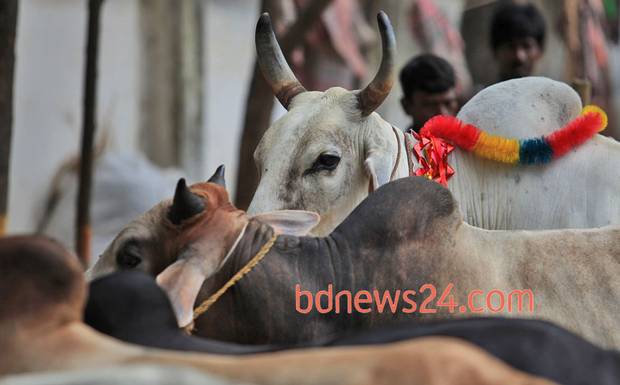 The experts deliberated several bilateral issues at the Observer Research Foundation's (ORF) Kolkata chapter at the weekend.
ORF's lead researcher on Bangladesh Joyeeta Bhattacharjee proposed the legalisation of the cattle trade between the two countries in her presentation on border management.
Bhattacharjee said most of the border killings that has become a sore point in bilateral ties resulted from the illegal cattle trade.  She emphasized the economics of the cattle trade which was continuing despite all legal hurdles.
"Most of the border skirmishes and killings took place when border-guards try to stop cattle smuggling," she said. "If the trade is legal, much of the daily border tension between the two countries will come down."
"There is a cow belt in Northern India and there is a beef consuming belt in Bangladesh, so why not get the market forces in action by legalising the trade," said geographer-hydrologist Pronab Ray, while presenting his concept of border management between the two countries.
"This is a $ 500 million dollar trade and the governments of both countries are losing out on revenue because it is illegal," said Bangladeshi researcher Shamsul Arefin. "India may have religious sensibilities in allowing the trade but cows can always be sold to us for agricultural purposes."
Author and veteran journalist Subir Bhaumik reminded the experts that one former director general of the Indian Border Security Force had made similar suggestions about legalising the cattle trade so that the border guards could concentrate on checking the inflow of more dangerous contraband like drugs and weapons.
"But there are strong vested interests on either sides of the border to thwart legalisation of this trade. They need it to be thwarted," said Bhaumik.
File photo
Chairing the session on border management, Bhaumik said India's border force must be clearly told not to treat the frontier with Bangladesh as a hostile one like Pakistan.
"Bangladesh is a friendly country and that appreciation should be reflected in India's border management.  How can the same yardstick be applied to Pakistan and Bangladesh?," Bhaumik wondered.
India's leading strategic thinker C Rajamohan, in his keynote address, called on Indian policy makers to 'go for bolder initiatives on trans-border connectivity' by taking a clue from China.
"There was an urgent need to get rid of the conservative and defensive attitude India has on these issues. We should take a clue from China whose Yunnan province faces the same problem as India's Northeast but that does not mean the Chinese have closed down their border," said Rajamohan.
He said the Modi government should not fall into the 'domestic trap' like Manmohan's.
"There may be pressure on it from Assam and Bengal but Modi should conclude the Teesta water sharing deal and implement the land boundary agreement at the earliest."
The ORF hosted former Bangladesh foreign minister Dipu Moni when she elaborated her concept of basin management for common rivers between the two neighbours.
ORF's Kolkata chapter chief Dr Ashok Dhar said his think tank is always looking for out of box thinking that could influence policy to turn a new corner in bilateral relations.
But India's former army chief General Shankar Raychoudhuri said that India-Bangladesh relations suffered the limitation of 'regime-specificity'.
"There is not much we can do about it. When Hasina is there in power, our relations reach the sky, but when Khaleda Zia comes to power, we get the same terrorists that Hasina has stopped to come into India for all kinds of trouble making."
The former army chief said India must fulfil all its commitments like the Teesta River water sharing and land boundary agreements now because Hasina had done so much for Indian concerns.
"This is Modi's real test in the neighbourhood. Strengthen the hands of our friends by doing enough for them and weaken our enemies by isolating them," he said.
Source: bdnews24