A mutually deregulated visa treaty can reduce costs and time spent by border officials and travelers alike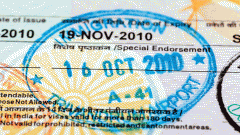 India is reported to be considering initiatives to spread visa on arrival and electronic travel authorisation facilities to tourists at airports from a large number of countries, including Bangladesh.
While such a move would be welcome if implemented, there is unfortunately to date no clarification on the past bilateral discussions for a special travel agreement arrangement between Bangladesh and India.
There is still a strong case for implementing such an agreement, as any new visa facilities in India are only likely to be initially implemented at a few airports and only apply to tourists.
Given that Bangladesh shares a large land border with India, and our citizens frequently visit the country for a variety of purposes ranging from business to medical visits, mutual trade and relations would be increased further by facilitating the same ease of visa facilities for other purposes and at all crossing points.
The agreement proposed in 2012 would have initially been restricted to certain categories of travelers, with Bangladesh also allowing Indian nationals to get similar visas. It would for example have greatly eased the process of obtaining an Indian visa in advance for medical patients facing time pressures. A mutually deregulated visa treaty can still serve these aims and reduce costs and time spent by border officials and travelers alike.
A special travel agreement treaty between Bangladesh and India would still provide a meaningful gesture of goodwill and be beneficial to the peoples of both our two countries.
Source: Dhaka Tribune