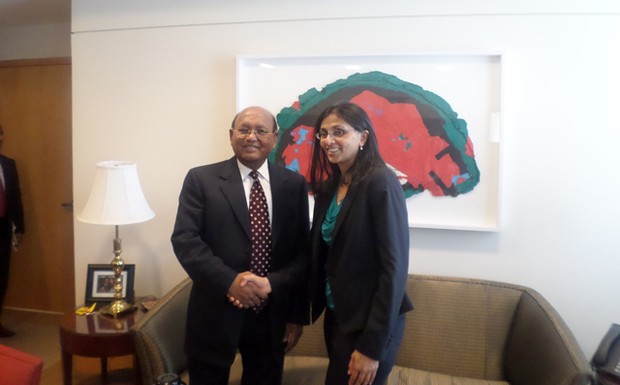 Bangladesh should further improve working conditions in garment factories, US Assistant Secretary of State Nisha Desai Biswal has said.
Biswal made this point while meeting Commerce Minister Tofail Ahmed who is now in the US.

The meeting took place on Wednesday local time in the Washington DC.

Bangladesh embassy in the US counsellor (commerce) Shamsul Islam said Desai had lauded Bangladesh's effort to improve safety of garment workers and for safeguarding their rights.

She also asked Bangladesh to work closely with neighbouring India and Myanmar.

Tofail Ahmed detailed the steps taken by his government for improving working conditions and safety so that US could restore Generalised System of Preference (GSP) facilities.

In June last year, the US had suspended GSP benefits for Bangladesh products for its reported failure to improve workplace safety and to ensure trade union rights in EPZs.

Later the Obama administration also unveiled a plan detailing some conditions including improving work place environment for workers to get back the GSP facilities.

The assistant secretary of state and Bangladesh commerce minister also discussed increasing bilateral trade and regional relations, said a spokesperson of the US Department of State.
Tofail Ahmed held separate meetings with senior officials working on trade and commerce and workers' rights in South Asia.

He held talks with United States Trade Representative's (USTR) Ambassador Michael Froman.

Bangladesh Garment Manufacturers' and Exporters' Association (BGMEA) President Atikul Islam and Bangladesh Knitwear Manufactures' and Exporters' Association (BKMEA) acting President Md Hatem are accompanying Tofail Ahmed.

They met US Senator and Chairman of the Senate Committee on Foreign Relations Robert Menendez.

Menendez said Bangladesh has worked a lot for workers' safety in the last one year but much still needed to be done.

BGMEA chief Islam told bdnews24.com, "If we were invited to the Senate hearing on the workers rights in Bangladesh, we can brief them about the real situation.

"We told the senator that the hearing was unilateral. We have requested him to give us an opportunity for defending our positions in any hearing in the near future," he said.

Islam said Menendez assured them of accepting their request.
Source: