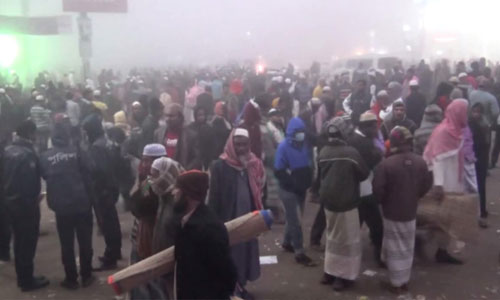 The first phase of the Biswa Ijtema on the bank of Turag River at Tongi on the outskirts of the capital ended on Sunday with concluding prayers joined by thousands of Muslims from home and abroad.
The devotees raised their hands in prayers seeking forgiveness and blessings for peace and prosperity of the Muslim Ummah.
Moulana Saad from India conducted the 24-minute Akheri Munajat which began around 11:08am.
Thousands of devotees from home and abroad took part in the munajat on the bank of Turag River.
President Abdul Hamid along with his family members joined in the Akheri Munajat from the Bangabhaban, president's press secretary said.
The three-day congregation began on the bank of the Turag River after Fazr prayers on Friday with religious sermons delivered by Maulana Abdur Rahman of Pakistan. Abdul Matin interpreted the sermons into Bangla.
Ijtema is being held in two phases from 2012 to ease accommodation problem.
The second phase of Ijtema is scheduled to begin from January 15-17 at the same place.
Meanwhile, three devotees including a foreigner died on the Biswa Ijtema ground on Saturday night.
Earlier five devotees died in separate incidents at the Ijtema venue on Thursday and Friday.
Besides, thousands of volunteers are working round the clock to make sure the event runs smoothly.
Several health centres have been set up at different parts of the venue along with beds and almost all first aid and other treatment facilities with doctors doing round-the-clock duties at each centre.
Special measures have also been taken to ensure uninterrupted supply of electricity during the three-day Ijtema.
Bangladesh Railway is operating 28 special trains to carry the devotees of the two-phase Ijtema.
Source: New Age