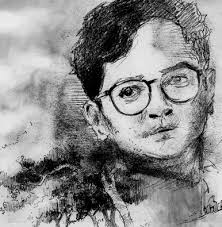 The third death anniversary of noted littérateur, filmmaker, TV playwright-director Humayun Ahmed is being observed across the country Sunday.
Humayun Ahmed authored around 200 books of fiction and non-fiction and directed 15 films. His writing included novels, short stories, an autobiography and columns in different newspapers.
Ahmed created characters like Himu and Misir Ali, characterised by eccentric, comic and compassionate features, who achieved unparallelled popularity, particularly among the readers of post-liberation Bangladesh.
Besides books, he wrote many songs which he used in his films and TV plays. His creations earned him a number of awards including the Bangla Academy Award and the Ekushey Padak.
Humayun's first television drama was Prothom Prohor which was aired in 1983. His first film Aguner Parashmani, based on the 1971 Liberation War, won the National Film Award in eight categories.
He died on July 19, 2012, at Bellevue Hospital in New York in the US after an eleven-month struggle against colorectal cancer.
Different cultural organisations and millions of his readers and fans have chalked out elaborate programmes marking his death anniversary.
The fans is observing the day by walking barefoot, the way many of Ahmed's fictional characters do in his novels.
Humayun Ahmed was born on November 13, 1948 at Kutubpur village of Netrokona district. He studied chemistry at the Dhaka University and later became a professor of chemistry there.
Source: Dhaka tribune