Meanwhile, security measures have been beefed up in Noakhali and Feni following the incident of attack on Hindu temples and businesses.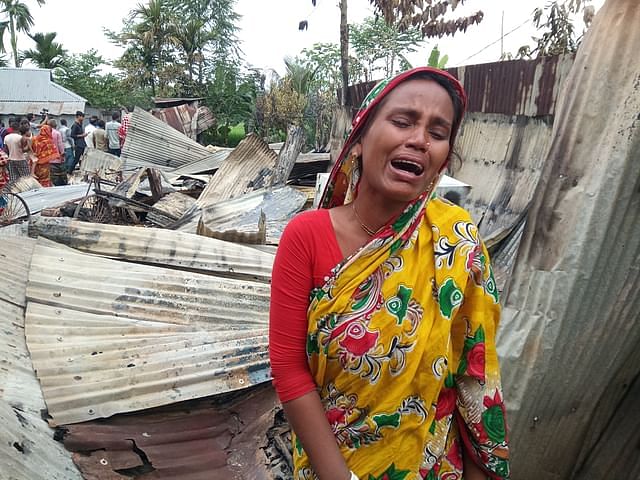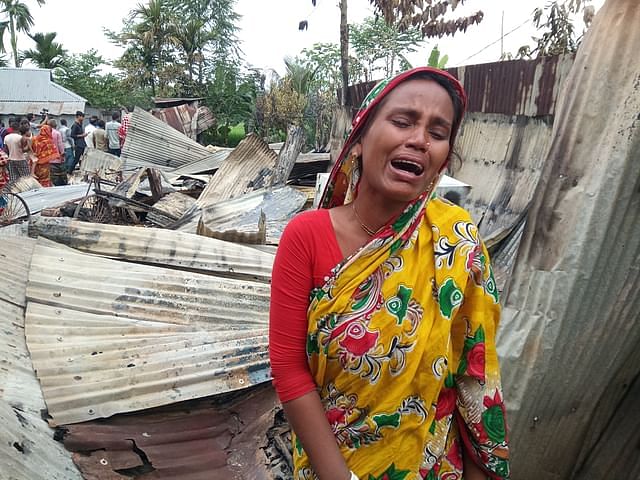 Clashes took place in Feni on Saturday over stones being thrown as the puja celebration committee of the district was holding a human chain programme protesting against the attacks on the Hindu community in different places of the country. Later, a temple, an ashram and several shops came under attack.
Earlier on Friday, a mob vandalised and torched temples and shops of the Hindu community at Chowmuhani of Begumganj in Noakhali. Two people were killed during the attacks.
Policemen were seen deployed in front of Sri Sri Kali Mandir, Boro Bazar Kali Mandir, Jagannathbari Mandir, Bashpara Mandir and other temples of Feni town.
Saturday's attacks were carried out at Kalipal Gaziganj Mohaprabhur Ashram and Durga Mandir. A damaged vehicle was found in the area on Sunday. CC cameras installed outside the temple were found damaged. Two windows and chairs were vandalised during the attack.
In the town's Takia Road, six shops were found vandalised.
Chandranath Saha, proprietor of Chanda Rice, alleged that miscreants broke the shutters of his shop, took some goods outside the shop and set these afire. He alleged that miscreants looted around Tk 200,000 from the cash box of his shop.
Ten dried fish shops on the same road were vandalised.
Bishonkor Pal, son of Surjo Pal—proprietor of a food grain warehouse at Gopalpatti—said that miscreants looted Tk 375,000 from the cash box of their shop. A weighing machine and a sewing machine were also looted.
Feni's deputy commission Abu Selim Mahmud Ul Hasan, police superintendent Khondkar Nurunnobi visited different temples of town. Commander of RAB-7 Lieutenant Colonel ASM Yousuf also visited temples.
Two cases were filed with Feni model police station over the incidents of attack on two temples and shops. Two sub inspectors of the police station filed the cases. 200-250 people unidentified people were made accused in one case and 100-150 more were accused in the other case. But police failed to arrest anyone as of Sunday afternoon.
Inspector (investigation) of Feni model police station Monir Hossain said they have started the process to identify the miscreants from CCTV footage.
Meanwhile, RAB has detained three persons over the violence in Feni. They are Ahnaf Towsif Mahbub Labib, Abdus Salam Junaid and Foysal Ahmed Al Amin. RAB headquarters legal and media wing assistant director Imran Khan told Prothom Alo that the three persons have been arrested over the recent violence and instigation on social media.
In Noakhali's Chowmuhani, police and Ansar men were seen deployed at Radhamadhab Mandir and Ramthakur Ashram on Sunday morning. Law enforcers were deployed in other temples and important places of the town. RAB and BGB members were patrolling the area.
The vandalised shops in Friday's attack were still shut.
A businessman at Ram Thakur Asram area, on condition of anonymity, told that people are frightened to open their shops.
As of Saturday night, no case was filed over the death of two ISKCON-devotees in Friday's attack.
Hindu Buddhist Christian Oikya Parishad's general secretary Rana Dasgupta visited some vandalised temples at Chowmuhani on Sunday afternoon.
He demanded immediate withdrawal of deputy commissioner (DC) and Superintendent of Police (SP) of Noakhali for their failure over the incident of attack and vandalism of temples, houses and businesses of the minority community.
Meanwhile, a huge protest procession was held in Chattogram over the incidents of attacks on the minority community in different places of the country. Chattogram division committee of International Society for Krishna Consciousness (ISKCON) mainly organised the protest.
The puja observation committee of Chattogram city unit announced 4-day protest programmes from Monday demanding trial of the attackers on the minority community. The programmes include human chain at 4:00pm today, token hunger strike on Tuesday, rally on Wednesday afternoon and candlelight vigil on Thursday.