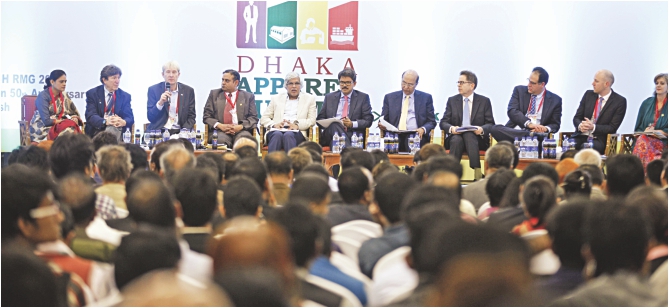 Garment makers and trade union leaders yesterday called upon international retailers to raise prices of the apparel items they buy from Bangladesh.
The apparel manufacturers also suggested the retailers follow ethical buying practices, which they said will ultimately benefit workers.
Amid rising pressure from global brands to reduce prices of their products, the suppliers are often forced to compromise safety issues and wages of their workers, they said.
Costs of production rise every year, but the prices of garment items do not, the apparel makers said.
They spoke at a session — reinventing the apparel model: the race to responsible buying and productivity enhancement — at the Dhaka Apparel Summit being held at Bangabandhu International Conference Centre in the capital.
"Ethical sourcing and ethical purchase should be in place," said Anwar-Ul-Alam Chowdhury Parvez, a former president of Bangladesh Garment Manufacturers and Exporters Association (BGMEA).
Buyers offer lower prices every time the sector faces an industrial disaster, he said.
Foreign inspection agencies highlighted the faults they found in Bangladeshi factories, but they hardly put focus on the fact that more than 98 percent production units in the country are safe, Parvez said.
"Buyers come up with lower prices as they do not want to understand the suppliers," said Gunelie Winum, chief executive and founder of Sustainable Trade, a Norway-based rights group.
Usually the price of a product is set on the basis of its production cost, but it is not followed in case of garments from Bangladesh, she said.
Retailers do not go by the global pricing model while buying apparel products from Bangladesh, Winum said.
The garment makers' platform is organising the summit, the first of its kind, with two objectives — to earn $50 billion from garment exports by 2021, and to brighten the sector's image that was dented by factory accidents.
The summit that ends today has brought together retailers, trade body leaders, policymakers and scholars, especially from the US and the EU, the two main export destinations of Bangladeshi garments.
"A vicious cycle is prevailing in the garment sector due to a lack of good governance," said Sharif As-Saber, head of geopolitics, business and government research cluster at RMIT University, Melbourne.
He called for setting up a secretariat for global garment business with representatives from retailers, manufacturers and governments to ensure a fair pricing model.
Nazma Akter, president of Sammilito Garment Sramik Federation, a garment workers' platform, called for decent and responsible practices in payment of wages.
"Please do not call us cheap labour. Respect us as workers," she said.
Swedish retail giant H&M, the largest apparel sourcing company for Bangladesh, made a huge profit last year, but they did not raise the prices of Bangladeshi garments, she said.
"Workers were not benefitted from the wage hike last year due to exorbitant house rents."
The retailers must address the price issues, she said, adding that minimum wage and living conditions of the workers should be fair to reach the target of $50 billion garment exports by 2021.
"Businesses should be responsible. Please pay fair wages. It is a shame that the retailers make 100 percent profit, when workers remain hungry," Akter said.
Shahriar Alam, state minister for foreign affairs, said the prices of retail products fell 18 percent, on average, in the US market in the last 10 years, and 25 percent in the EU, which also impacted the prices of Bangladeshi garments.
"For example, when I used to work in a British retail company in Dhaka in 1996, I paid $18 as cutting and making (CM) charge for a dozen of shirts. But when I started my own factory in 2006, I was paid $8 for CM," Alam said.
During this time, Bangladesh's exports to both the US and the EU increased, but the prices have gone down, he said.
"We have to be responsible," the minister said, adding that it is difficult to find an alternative to the Bangladesh market.
Mayaudon Pierre, ambassador of the European Union delegation to Bangladesh, suggested the garment makers should enhance productivity, and invest more in new technologies, safe working conditions and women workers.
Bangladesh will enjoy duty benefit in the EU market under the bloc's GSP Plus scheme even if the country moves out of the list of least-developed countries, he said.
Richard P Appelbaum, a professor of University of California, said factories should sign legally enforceable agreements with brands for more responsible business practices.
Nate Herman, vice-president of American Apparel and Footwear Association, and Tyler Gillard, head of sector projects and legal adviser of responsible business conduct unit of the OECD, also spoke.
Source: The Daily Star