Shoppers say they are buying their goods for a reasonable price and so are happy with shopping at the makeshift markets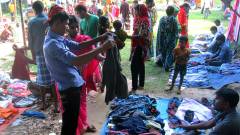 A makeshift market has been set up along the Dhaka-Mymensingh Highway at Sripur upazila in Gazipur ahead of Eid-ul-Fitr
Hawkers' markets have popped up at villages along the Dhaka-Mymensingh highway in Sripur upazila of Gazipur ahead of Eid-ul-Fitr.
Hawkers say they are selling their goods for quite a cheap price because they do not have to pay any toll like they would have had to if they had set up their shops at the traditional markets.
Shoppers say they are buying their goods for a reasonable price and so are happy with shopping at the makeshift markets.
A makeshift clothes market has sprung up on the premises of SK Garments Manufacturing Factory at Kewa Purbokhondo village in the municipality.
Khalilullah, a shopper, says people are being able to buy their clothes, including shirts, lungis, sarees, t-shirts and pants, as well as bedsheets and children's toys for reasonable prices from this market.
A lungi and chador seller, Dulal Mia, says: "I sell my products by actually hawking here and there. Since Tuesday, I have been selling lungi and chador here, making more than what I could from hawking every day."
"I have been selling clothes amounting to around Tk15,000 on average since Tuesday," he said, adding that he sold Tk10,000 worth on Tuesday and Tk 14000 worth on Wednesday.
He adds that the sales of clothes are increasing as Eid draws nearer.
A hawker, Mintu Mir, who has set up a shop next to Mita Textile at Gorgoria Masterbari, says he hawks from village to village, selling clothes. This time, he has set up his shop here.
He said: "I am making very good profit since setting up my shop here on Tuesday. Sales are increasing every day. Though I failed to sacrifice any animal during the last Eid-ul-Azha, I hope to spend this Eid well."
Another hawker, Ahmed Ali, who is selling imitation ornaments and children's toys at the same place, says: "It is quite profitable to sell goods at the pop-up markets rather than to hawk on foot."
He explains that nobody comes to take any toll from such pop-up markets. Most shoppers are either women or children and so clothes can be sold easily.
Sripur Municipality Councillor Kamruzzaman Mandal said: "No toll is imposed on those who are setting up makeshift markets in and around the villages.
Source: Dhaka Tribune