Khaleda Zia, who boycotted the last general election, has slammed the government for not conceding her demand of a snap voting.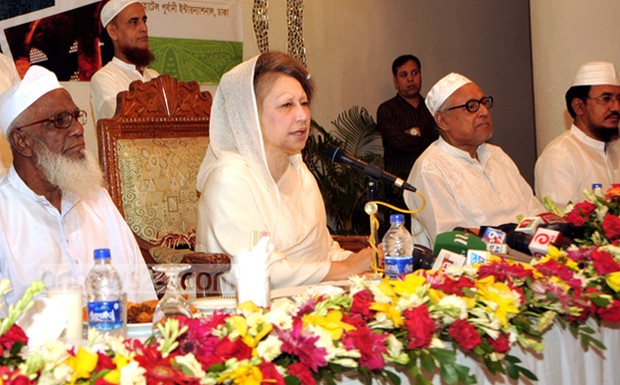 The BNP chairperson claims the government is 'afraid' of elections.
"The foreigners say there is no democracy in Bangladesh. An election, participated by all parties, should be organised quickly after talks with the stakeholders," she said at an Iftar hosted by her ally Islami Oikya Jote in Dhaka on Thursday.
Khaleda, leader of the opposition in the 9th Parliament, slammed the government for "corruption and murders".
She alleged the government did not want to leave office being afraid of the people and facing justice.
"They don't want to organise elections as they are afraid of the people," the former prime minister claimed, adding, "The ruling party admits that it will be disastrous for them if they call the election."
She said the people vented their anger against the government in the recent city polls.
Ruling Awami League-endorsed candidates swept April's polls to Dhaka and Chittagong city corporations boycotted midway by the BNP-supported candidates alleging rigging.
"The people have given a glimpse into how they will reject them (the government)," the BNP chief said. "Had the (city) election been fair, the people would have given a fitting reply, they would have slapped (the government) on the face with shoes."
Source: bdnews24