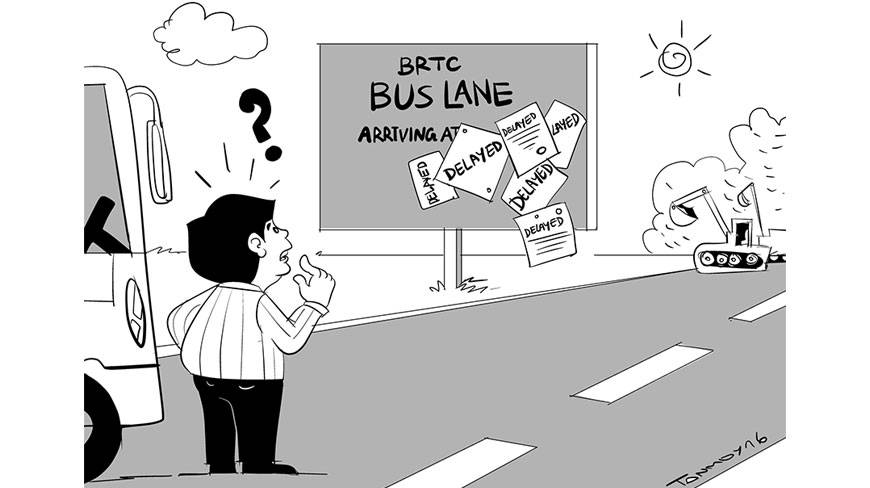 The cabinet's approval of a new law to regulate services on the planned Dhaka to Gazipur bus rapid transit route, does not make up for continuing delays on the Tk2,042cr scheme.
BRT construction work has been repeatedly stalled by a series of delays in designs and tenders since the project began in 2012.
While it is right that the government should make provision to set service standards and fares, priority needs to be given to getting construction work back on track.
It is not good enough for officials to be briefing reporters that the project will enable comfortable journeys between Gazipur and the capital in 20 minutes, if the February 2015 deadline for completing detailed design of bus lanes from Shahjalal Airport to Gazipur has still not been met.
This project is meant to cut commuting times along the Dhaka-Gazipur route by facilitating 140 buses carrying 40,000 passengers per hour along purpose-built bus corridors between Shahjalal Airport and Gazipur.
If progress is not expedited, the BRT project risks falling behind the Metro Rail project, which it is intended to complement. With road space at a premium, improving bus services by building dedicated express routes and allocating public transport-only lanes are the most cost-effective means available to cut congestion and increase capacity.
The BRT project should lie at the heart of efforts to reform public transport for Dhaka's residents.
It is not acceptable for work on the scheme to be delayed any longer.
Buses are the only means of transport available for most people. It is in everyone's interest for the government and BRTC to put improving buses first.
We cannot afford not to prioritise public transport if we want to speed journey times for everyone and lift the curse of traffic jams.
Source: Dhaka Tribune