Police will interrogate former RAB officers Tarek Syed Mohammad and Arif Hossain for another five days in the Narayanganj seven-murder case.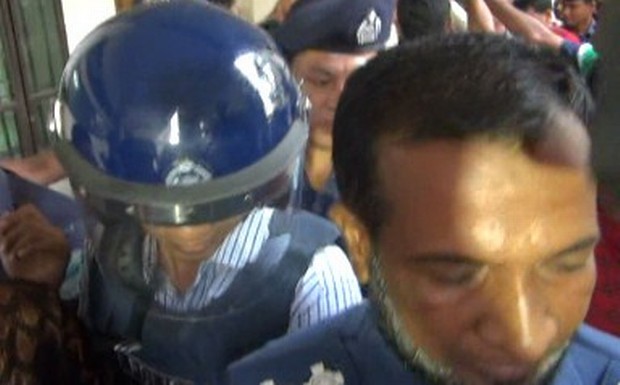 A Narayanganj court on Friday accepted a police plea for a third round of interrogation, Special Branch Inspector Moinur Rahman said.
Police have grilled the two officers, who were forcibly retired from the army, and are trying to tease out details since arresting them in Dhaka cantonment on May 17.
They are being kept at the Narayanganj police lines.
Officials involved in the investigation have been tight-lipped about what information has been gleaned in the first two rounds of interrogation.
Investigation officer Mamunur Rashid said in his plea for remand to the court that the duo had confessed their involvement in the crime and given out much valuable information.
"They also had close ties with Nur Hossain, the prime suspect," he said in the plea.
Narayanganj District Lawyers' Association President Shakhawat Hossain said at the remand hearing that the former RAB officers were involved in the criminal activities of Siddhirganj 'godfather' Nur Hossain.
"The bricks used to drown the bodies were taken from a pile near the RAB-11 office. The bags in which the bodies were packed are ration bags for RAB. The ropes with which the bodies were tied also belong to RAB," he said.
Tarek and Arif were quiet during the hearing. No lawyers represented them.
Another RAB officer allegedly involved in the murder, ex-navy officer MM Rana, is undergoing a second round of interrogation.
The three men were removed from their parent forces after the bodies of seven men including Ward Councillor Nazrul Islam, abducted from Narayanganj city on Apr 27, were found floating on Shitalakhyya River at Bandar Upazila.
The three were removed from RAB-11 even before the abducted men were found dead.
Siddhirganj Awami League leader and ward Councillor Nur Hossain, allegedly the mastermind and financier of the crime, is on the run.
Source: bdnews24