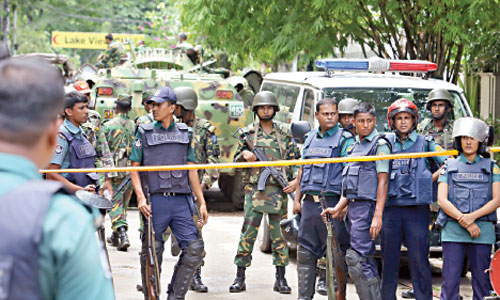 Many of the foreign buyers have resumed visiting Bangladesh in recent days after a brief pause following two deadly extremist attacks in July as the Industrial Police are giving them round-the-clock security from arrival to departure, said garment factory owners.
They said that some buyers had suspended Bangladesh visit soon after the attacks at Gulshan in Dhaka on July 1 and at Sholakia in Kishoreganj on July 7.
In the Gulshan attack, 28 people including 17 foreigners were killed.
Leaders of the Bangladesh Garment Manufacturers and Exporters Association said that many factory owners were taking police protection for their foreign buyers through the BGMEA and some were taking the facility directly from the Industrial Police.
Some of the buyers are getting security from their supplier companies as they are not willing to take police protection, BGMEA leaders said.
According to data, the Industrial Police provided 15 security escorts between July 21 and August 12 to the foreign buyers who visited several company offices and factories in Dhaka and Gazipur during the period.
During the visit in Bangladesh, the foreign buyers got police protection from their arrival at airport to reaching hotel, to factory visit and to departure from Bangladesh, Industrial Police sources said.
According to the data, the buyers who visited Dhaka and Gazipur were from the Unites States, the United Kingdom, Italy and Turkey.
In Chittagong, the Industrial Police provided police protection to 57 foreign buyers in last one month.
The foreigners were from European countries, South Korea, Singapore, Sweden, Russia and Japan.
The highest number of buyers who took police protection in Chittagong came to visit Youngone Group and BSRM Steel Mills Ltd.
BGMEA vice-president Ferdous Parvez Bivon said that many of the buyers in recent weeks had come to Bangladesh. 'Some buyers are taking police protection while some are not taking escorts as they do not feel comfortable to move with police escort,' he said.
'But the Industrial Police is ready to provide support as per the requirements of the foreign buyers,' he said.
He said that the Industrial Police provided round-the-clock security to 30 foreign buyers who visited factories and offices of their supplier companies situated in Ashulia in Dhaka, Dhaka and Gazipur after the terror attacks.
Industrial Police sources said 1,221 foreigners work in Chittagong and their security has been beefed up after the terror attacks at Gulshan and Sholakia.
According to the sources, 135 foreigners who work for Bashundhara Paper Mills, Meghnaghat Power Station and Siddhirganj Power Plant in Narayanganj have taken police protection.
Moreover, security of about 200 foreigners who live in Rupayan Town in Narayanganj and work for several factories has been tightened following the Gulshan attack.
Abdus Salam, director general of the Industrial Police, told New Age that an increasing number of foreign buyers was taking constant police protection and the police are providing them the support from arrival to departure.
Source: New Age