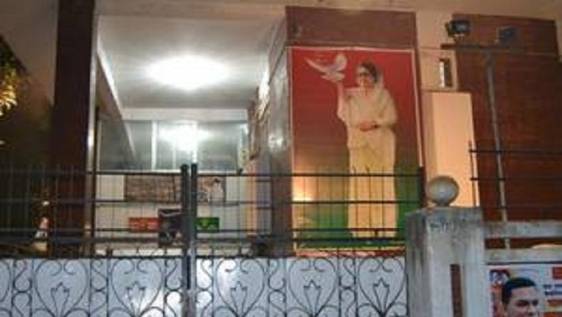 BNP chairperson Khaleda Zia's press wing is continuously accusing police of blocking food supply to Khaleda's office.
However, investigation shows that food for Khaleda's office comes from three places.
Food for Khaleda comes from her younger brother Shamim Iskandar's residence.
Food for others present in the office is brought by the members of the Chairperson's Security Force (CSF) from Khaleda's Gulshan-2 residence 'Firoza'.
Khaleda's food is brought four times a day by a man named Khair, who used to be the driver of a car once used by Arafat Rahman Coco's wife Sharmila Rahman.
The CSF members bring food three times a day — in the morning, at 2:00pm and at 10:00pm.
On last Saturday, pro-BNP lawyers brought packets of biriyani for people present at the office after BNP-backed layers won the Dhaka Bar Association election.
The packets were taken inside the Gulshan office with the help of plainclothes police.
Some policemen took away some of the packets brought by the BNP lawyers after their shift ended that afternoon.
However, none of the CSF members were seen to take any food packet inside the house till 3:00pm that day.
Shayrul Kabir, an officer of the BNP chief`s media wing, accused police of blocking food supply to the office the same day.
He said about 50 people staying inside the office with Khaleda have to eat dry food stored in the office.
Food supply to the office 'remains suspended' since 13 February.
BNP vice chairman Selima Rahman on 15 February claimed that Khaleda was not eating for the last five days.
On 21 February, police barred some retired military officers led by M Wahed Uddin from entering the office. They had brought food for people staying there.
Sources in BNP's Gulshan office said Khaleda is staying inside the office since 3 January along with BNP vice chairman Selima Rahman, standing committee member Nazrul Islam Khan and other officials and employees of the office.
Source: Prothom Alo