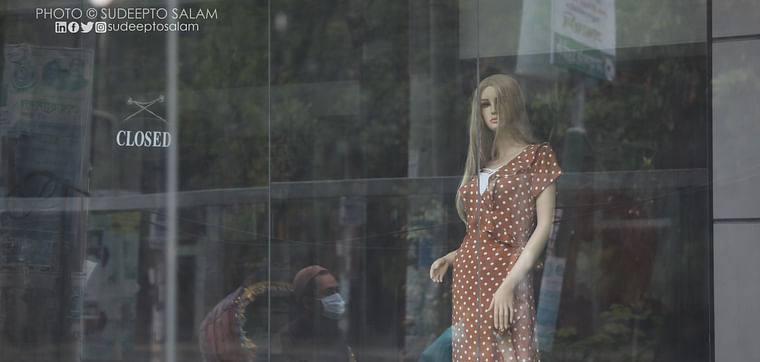 Pahela Baishakh is here and Eid is not too long off either. But with the COVID-19 outbreak, there will hardly be celebrations or festivities on these two occasions. The fashion industry will be hit particularly hard as these two festivals are the peak time for sales.
If things continue much longer in this manner, the fashion industry will likely see losses amounting to over Tk 60 billion. Around 5000 entrepreneurs of the sector will face difficult times and 500,000 others, involved directly and indirectly in the industry, will also be plunged into crisis.
Preparations for the Bangla New Year, Pahela Baishakh, had been on in full swing like any other year, said president of FEAB (Fashion Entrepreneurs Association of Bangladesh) and top executive of fashion house Anjan's, Shaheen Ahmad. In fact, there had been a bit of extra effort this year, he says, elaborating that Eid was following close on the heels of Baishash. And sales had been brisk for the spring event, Pahela Falgun, as well as the Language Day in February and Independence Day in March, adding more incentive to their Baishakh and Eid efforts.
On other years, customers throng the stores in April for their Pahela Baishakh outfits. New clothes for the New Year are of tantamount importance. In fact, many fashion houses launch their Baishakh collection in the first week of March. But things took a nosedive when the first coronavirus patient in the country tested positive on 8 March.
By 20 March, sales had dropped to half what it had been in the corresponding period last year. In the next 5 days, sales fell to nil. Then from 21 March all shopping malls and brand stores were closed down. According to FEAB, this caused losses of around Tk 1.25 billion in March.
Uncertainty over Eid
Entrepreneurs are anxious about Eid, too. There are just two months between the two occasions this time. As it is, there was hardly scope to invest the Baishakh earnings in Eid preparations. The entrepreneurs invested their savings, bank loans and funds from other sources, but now all that is stuck. Even the work remains half done.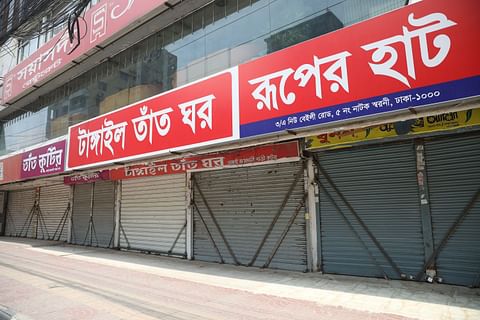 Meanwhile, expenses pile up. There is house rent, utility bills, bank loan installments, employees' salaries, producers' wages, VAT, tax and then again, Eid bonus. Yet revenue is zero. And even when this crisis is other, it is likely to take time before people are ready to celebrate.
Crisis for the fashion industry has a domino effect and all these other sectors are hit hard. In Bangladesh, the fashion industry involves a long line of other industries and crafts. Directly involved are all the traditional weaving industries of Tangail, Sirajganj and Pabna. There are the hand woven crafts of jamdani and benasari of the indigenous Manipuris. Other essentials of the industry are embroidery as well as natural and chemical dyes. The leather, metal industries, jewelry, jute and so many other traditional sectors are part and parcel of the fashion industry.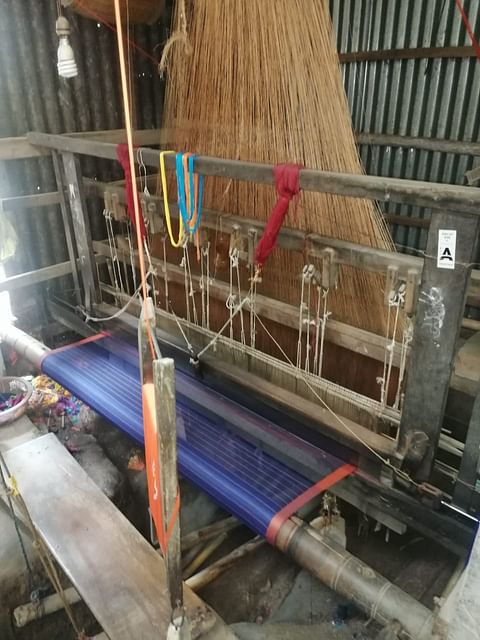 Fashion house Kay Kraft's owner Khaled Mahmud Khan said it's a nightmare just to even think of where the damages will end.
Head of marketing at the country's biggest lifestyle brand outlet, Aarong, Tanvir Hossain said last year their turnover had been Tk 10 billion. And 10 per of the revenue comes from Baishakh sales. Another 30 to 35 per cent comes from Eid sales. He said that when things are somewhat normal, they will focus more on online sales.
After Aarong, the 20 to 25 top fashion houses in the country include Kay Kraft, Anjans, Sada Kalo, La Reve, Rong, Nipun, Bibiyana, Biswarong, Deshal, Banglar Mela, Cat's Eye and others. Together they have about 400 employees. Also associated with them are about 200 to 250 producer and their workforce of around 4000. All of them have been dealt a hard blow by the pandemic.
Fashion house entrepreneurs, weavers and artisans are all in a financial crisis. When the situation normalises, they will all be facing a crisis in capital.
In the 5 April speech, the prime minister announced a special fund for small and medium entrepreneurs. The interest rate on loans from this fund is 9 per cent, but the government will provide a 5 per cent subsidy on this. The entrepreneurs will pay the remaining 4 per cent.
Recently Standard Chartered Bank announced an assistance scheme for it clients. City Bank has a long-standing relationship with many of the top fashion houses of the country. The bank's managing director and CEO Masrur Arefin said they would stand by these entrepreneurs in this time of crisis. He said they were in discussion with Bangladesh Bank about ways to provide the clients with payment holidays. They are also planning on providing running capital and other forms of support once the situation is back to normal.
Citizens of the global village wait for a new sunrise after the coronavirus crisis is over. And all involved in the fashion industry wait to weave a tapestry for a happy world once again
Bangladesh Handloom Board
Secretary of the Bangladesh Handloom Board, Md Ahsan Habib, said that they had taken up special assistance initiatives for the marginal handloom weavers. The board's liaison officers have been instructed to draw up lists of the marginal weavers and immediately hand these over to the district and upazila administration.
Experts say that it will take up till December for things to be back to normal. But then essentials like food and drugs will be people's priority. Clothes and accessories will lose priority. Stocks will pile up in the fashion houses. These houses will need cash to tide over the hard times.
Those involved in the industry say that government and private initiatives will be essential. The government must provide long-term low-interest loans. The SMI Foundation can play a constructive role in this regard.
The way ahead
Firstly, it would be a timely intervention to draw up a policy given official recognition to the fashion industry. FEAB needs to push this agenda forward.
Secondly, FEAB and other associated bodies need to lobby hard with SME Foundation and other government as well as private organisations, to highlight the fashion industry with emphasis on its intricate link with values, culture, tradition and folk heritage.
Thirdly, an appeal can be made for people of all government and private organisations to wear local clothing and give local products as gifts too. The prime minister's directives in this regard would be most effective, experts say.
Fourthly, initiative should be taken to halt for at least two years the import of any foreign products that pose as a threat to the industry. Or duty on these products can be increased.
In the meantime, citizens of the global village wait for a new sunrise after the coronavirus crisis is over. And all involved in the fashion industry wait to weave a tapestry for a happy world once again.