BNP spokesperson Mirza Fakhrul Islam Alamgir has tried pacifying a group of agitating Jatiyatabadi Chhatra Dal (JCD) activists demanding that the new committee of the student front be abolished.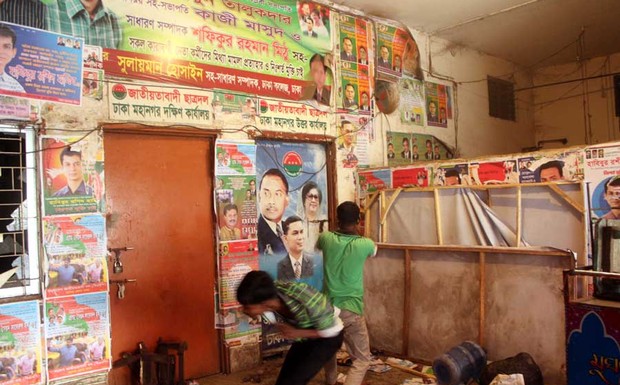 Those left out of the committee have been demonstrating at Naya Paltan for three days now.
Fakhrul called in five representatives of the protesters — last committee's Rakibul Islam Royel, Tariqul Islam Titu, Moshiur Rahman Mishu, Shamsuzzman Khokon, and Rafiqul Islam — and spoke to them at his office.
The new committee's Joint General Secretary Gazi Raunakul Islam Riaz was with the protesters at the meeting.
In Sunday's hour long meeting, former JCD chief Ruhul Kabir Rizvi, Habib-un Nabi Khan Sohel and Juba Dal President Syed Moazzem Hossain Alal accompanied Fakhrul.
Members of the new committee have pitched themselves on the fourth floor of the party headquarters.
Fakhrul ordered members of the new committee to "keep quiet" and left with them in the evening.
Riaz told reporters that they had informed the BNP acting secretary general of their demands. Fakhrul had assured them of discussing the matter with party chief Khaleda Zia and get back to them on Monday.
The dissident leader said their agitation would be put on hold until then.
Troubles started since BNP chief Khaleda Zia approved the JCD committee on Oct 14.
Several hundred activists started agitating in front of the BNP's Naya Paltan headquarters from Friday and announced to continue demonstrations until the committee was scrapped.
Members and supporters of the two groups clashed on Sunday. The glass wall of party founder Ziaur Rahman's statue in front of the BNP headquarters was damaged.
Fakhrul pacified the agitators on Saturday saying he would look into their demands.
Source: bdnews24