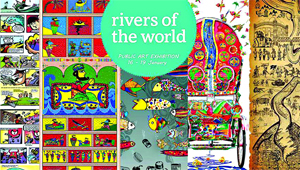 The British Council Bangladesh and Hongkong and Shanghai Banking Corporation (HSBC) Limited in Bangladesh jointly organized a river-thematic global exhibition— Rivers of the World on  the premises of Rabindra Sarobar, Dhanmondi on Thursday. The exhibition is open for all and will continue till January 19.
Eminent writer and activist Abdullah Abu Sayeed as the chief guest inaugurated the programme at 5pm . Noted cartoonist Ahsan Habib as the project mentor, renowned writer Anisul Hoque and HSBC Bangladesh CEO Andrew Tilke were also present as special guests.
As the guest of honour Robert W Gibson, CMC, British High Commissioner to Bangladesh also attend the event .
Apart from the outdoor exhibition, an Installment exhibition about the making of the artworks by artist Tamanna Tasmeem also began at Dhaka Art Center on the day.
Another attractive feature of the event is the musical performances by local popular bands Chirkutt, Lalon, Swagata and Friends, and solo vocalist Minar. Moreover, the concluding day will feature a fire dance performance on the open-air venue.
Under this programme, students from each participating countries create and exhibit artworks based on a selected river from the country. The programme is originally initiated by Thames Festival Trust, British Council Connecting Classrooms and HSBC Global Education Programme.
In the Bangladesh phase of the project, under the supervision of artists Syed Rashad Imam Tanmoy and Tamanna Tasmeem, 10 groups of school students from Bangladesh and United Kingdom made art works on the theme. This exhibition will showcase their works along with other art works of other participating countries from all over the world.
Source: Weekly Holiday