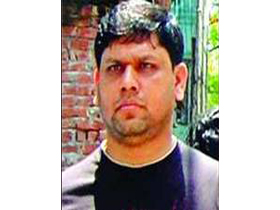 A court here on Sunday showed former Rab officer Lt Commander MM Rana arrested in the sensational seven-murder case and placed him on a fresh eight-day remand.
Senior Judicial Magistrate KM Mahiuddin passed the order when Detective Branch of Police Inspector Mamunur Rashid Mondal, also investigation officer of the case, produced him before his court on expiration of his seven-day remand.
In his forwarding, the IO prayed to the court for showing the former officer of Rapid Action Battalion-11 arrested in the murder case, saying many evidence indicate that he was involved in the seven murders, and sought a 10-day remand for them.
After hearing, the court ordered showing him arrested in the case and put him on eight days' remand.
Meanwhile, lawyers and relatives of people who went missing and were abducted in different times threw shoes at Rana when he was being taken from the court.
Police arrested MM Rana from Dhaka Cantonment area on May 18 in connection with the much-talked-about seven murders.
Rana was arrested a day after the Narayanganj district police arrested two other wanted ex-Rab officers -–  Lt Col Tareque Sayeed Mohammad and Major Arif Hossain of Bangladesh Army ––from the same area.
Lt Commander Rana from Bangladesh Navy and Lt Col Tareque Sayeed Mohammad and Major Arif Hossain from Bangladesh Army were sent on forced retirement following the allegation of their involvement in the abduction and killing of the seven people, including Narayanganj city panel mayor Nazrul Islam.
Tareque Sayeed and Arif Hossain are now second phase eight-day remand.
On April 27, Narayanganj panel mayor Nazrul Islam and his three associates and driver were abducted from Fatullah area in Narayanganj city. Hours into their abduction, senior lawyer of the Narayanganj District Judge's Court, Chandan Kumar Sarker, and his driver were abducted while they were going to capital Dhaka.
Three days into their abduction, the bodies of six people, including that of Nazrul and Chandan, were recovered from the Shitalakhya river on April 30. Besides, the body of Jahangir, the car driver of Nazrul Islam, was recovered from the Shitalakhya on May 1.
Source: UNBConnect