HM Ershad has been re-elected as chairman of the Jatiya Party.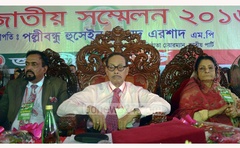 His wife and Leader of the Opposition in Parliament Raushon Ershad was elected senior co-chairman while his brother GM Quader became co-chairman in the party's Eighth National Council on Saturday.
ABM Ruhul Amin Howlader was elected secretary general in the council held at the Institution of Engineers, Bangladesh in Dhaka.
The leaders and activists of the party started gathering at the venue hours before the scheduled commencement at 10am.
Raushon's followers Water Resources Minister Anisul Islam Mahmud, State Minister for Labour and Employment Mujibul Haque Chunnu, former secretary general Ziauddin Ahmed Bablu, Tajul Islam Choudhury, Moshiur Rahman Ranga, and Fakhrul Imam were among the first to arrive at the venue.
Presidium Member Sayed Abu Hossain Babla, MP, and SM Faisal Chishti moderated the council chaired by Ershad. Howlader presented the organisational report.
Party constitution subcommittee convenor and Ershad's political secretary Sunil Shubho Roy proposed Ershad's name for the chairman's post after reading out the party constitution.
The Jatiya Party leaders and activists backed the proposal. They also cleared the other proposals for the elections of Raushon, Quader and Howlader.
Several leaders told bdnews24.com that some changes were made to the party's constitution by giving more powers to Chairman Ershad so that he could create any post.
 Source: bdnews24