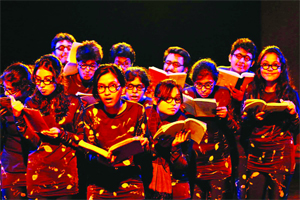 To mark the Dhaka University Day on  July 01,  Theatre and Performance Studies Department of the  university  staged William Shakespeare's Hamlet at Natmondal on DU campus.
Vice Chancellor of Dhaka University, Prof AAMS Arefin Siddique inaugurated the four-day theatre festival on June 4 evening, while Mamunur Rashid was also present as special guest on the occasion. The ceremony was presided by noted actress Wahida Mallick Jolly, also acting Chairperson of the department. Ashik Rahman Leon has directed the play, translated by Shamsur Rahman. The Shakespearean classic depicts the tragic life of Hamlet, Prince of Denmark. Hamlet, a vengeful hero vows to avenge his father's death. Along the way he loses everything, which eventually leads to his downfall. Students of third year and Master's of Theatre and Performance Studies Department of DU are featuring in different roles in the play.
The play was staged till July 7 everyday at 7:30pm at Natmondal of Dhaka University.
Meanwhile, the play Hamlet is also to be staged on July 10 and 11 at the Experimental Theatre Hall of Bangladesh Shilpakala Academy at 7:30pm. Edward M Kennedy Centre (EMK) is collaborating with Dhaka University to bring the play on stage.
Source: Weekly Holiday