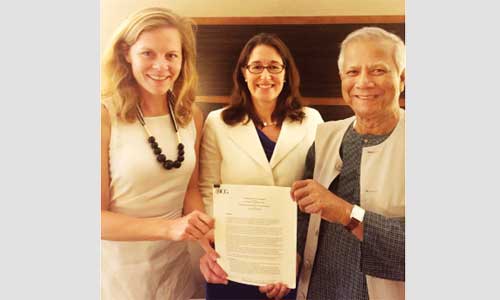 Nobel laureate Professor Muhammad Yunus has signed a memorandum of understanding with the Boston Consulting Group to form a global partnership.
The agreement was signed between Yunus and the group's global head of social impact practice Wendy Woods on the sidelines of the UNGA on September 26 last, said a Yunus Centre press release here on Thursday.
The Boston Consulting Group is a global management consulting firm, which is considered one of the most prestigious management consulting firms in the world with 82 offices in 46 countries.
In a statement, the BCG said, 'Muhammad Yunus and Yunus Social Business have built an effective and innovative network of organisations with a proven track record in using business approaches to solve social problems.'
As per the MoU, Professor Yunus and his organisation Yunus Social Business will get a special status with BCG.
Yunus Social Business becomes the sixth partner of BCG globally, which allows Yunus Social Business to receive all their global services to help it grow around the world.
On the same day, former US President Bill Clinton welcomed Professor Yunus at Hult Prize Award Ceremony, which took place at the Clinton Global Initiative venue in downtown Manhattan.
On the occasion, Professor Yunus addressed 1,000 guests, acknowledging all six finalists and spoke about social business.
Emphasising three zeros – zero poverty, zero unemployment and zero carbon emission, he said the world must adopt a policy of three zeros to attain a sustainable development.
To achieve his goals, he said, four things –the energy and creativity of the youth; the power of technology; social business; and good governance — are needed.
Source: New Age