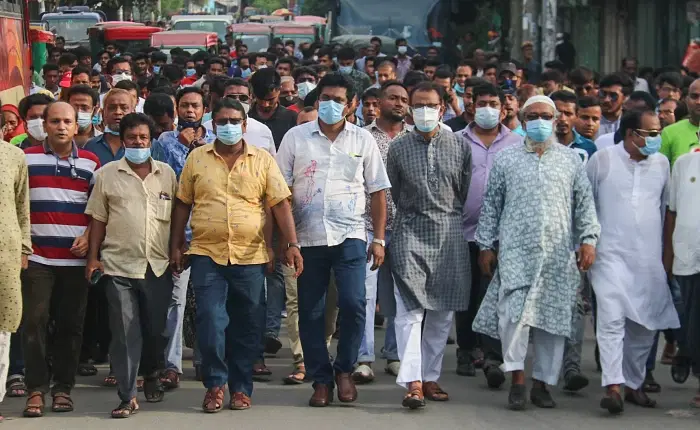 The 'coffin' rally scheduled to be held by workers in Khulna, voicing a 14-point demand including reopening of state-run jute mills, was obstructed by police. The rally, organised by the 'Patkal Rakhya Sramik-Krishak-Chhatra-Janata Oikya Parishad', was supposed to be brought out at 4:00pm Sunday.
Police detained three of the organisers in the afternoon before the procession could be brought out. The three include coordinator of 'Patkal Rakhya Sramik-Krishak-Chhatra-Janata Oikya Parishad', Ruhul Amin, central president of the Biplobi Chhatra Jubo Andolan, Atif Anik, and convenor of Barishal University's Samajtantrik Chhatra Front (Marxist), Sujoy Biswas. They had gathered workers in front of Crescent Jute Mills to bring out the coffin rally.
The police said that no permission had been taken from Khulna Metropolitan police for the procession. The three organisers had been detained for questioning.
According to eye-witnesses and also organisers of the protest rally, large numbers of police had been deployed from Sunday morning at the Khalishpur industrial area. At 12:30pm the police blocked the entrance to the BIDC road. Large numbers of industrial police and general police were also deployed at the mill gate. If even two people were seen together in Khalishpur, they were questioned. At 1:45pm, the police picked up three of the organisers including the main coordinator.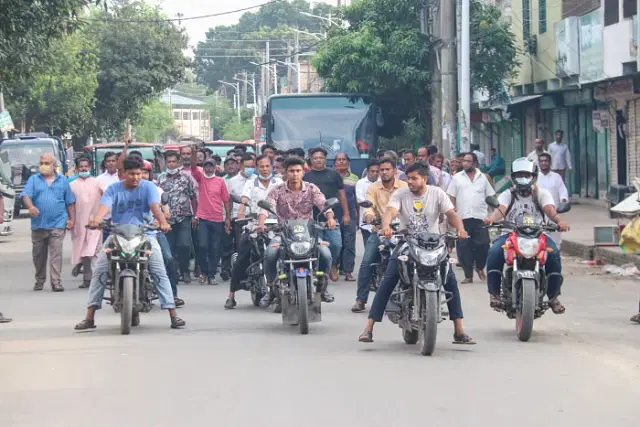 Meanwhile, Khalishpur thana Awami League and Chhatra League leaders and activists began to congregate in the area from the morning. Around a few hundred party men were rallying around the BIDC road in the industrial areas.
Khalishpur thana Awami League president Sanaullah Nannu claimed that the government had taken initiative to pay the workers their dues. The process of their filling up forms was on and they would soon get their money. They said their processions were being held to felicitate the prime minister for this.
Niaz Morshed, an activist of 'Patkal Rakhya Sramik-Krishak-Chhatra-Janata Oikya Parishad', the platform of workers, farmers, students and the people to protect the jute mills, said that a grand rally of workers was held on 2 October in the Crescent Jute Mills areas of Khalishpur. At that rally, it was decided to bring out the 'coffin' procession on 4 October. The next day a letter was sent to the Khulna Metropolitan Police headquarters in this regard. All preparations were made for the programme, but the police then obstructed the procession.
The Khalishpur area is under the KMP North Zone. Deputy commissioner of the zone, Molla Jahangir Hossain, told Prothom Alo that no one was given permission for that procession. Extra police had been deployed to maintain law and order. Three persons were detained for questioning. It will be seen if there are any previous cases against them.