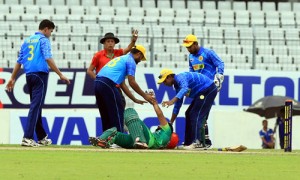 Former Test cricketer Sohrawardi Shuvo is now out of danger after primary treatment at Dhaka's Apollo Hospital following a head injury on Saturday.
Shuvo received the blow on his head during a Dhaka Premier League match on between Abahani Limited and Victoria Sporting Club in Mirpur in the afternoon.
Victoria batsman Shuvo was struck by a bouncer of Abahani paceman Taskin Ahmed during 25th over of their innings when he was batting on 21.
Shuvo collapsed to the pitch immediately before players of both teams rushed to him.
He was taken to Apollo Hospital, where he is being treated at Neuro-ICU unit under Dr. Vivek Josheph
'His condition is stable now,' said BCB physician Monirul Amin.  Doctors kept him under observation for 24 hours as a precaution.'
Source: New Age