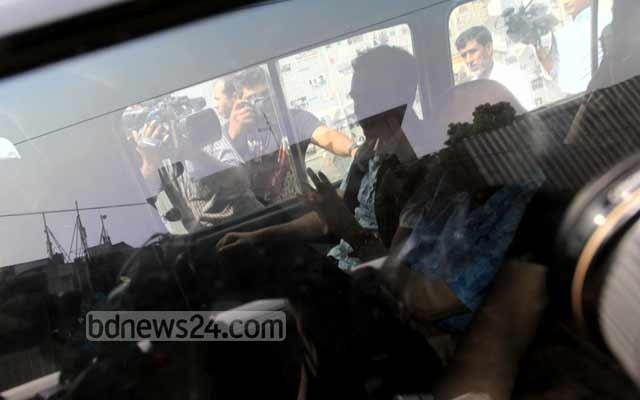 Police say 'confidential documents from the FBI' related to an abduction attempt on the prime minister's son Sajeeb Ahmed Wazed Joy have been found in arrested journalist Shafik Rehman's home.
Rehman was arrested on Saturday for his suspected involvement in the case, related to another case in the US in which the son of a top US-based BNP leader had been found guilty of bribing a former FBI official to gather information on Joy.
Rehman's Eskaton house was searched on Tuesday afternoon and the senior journalist cooperated, said DMP's Detective Branch Deputy Commissioner (DC) Mashruqur Rahman Khaled.
"Shafik Rehman has handed us some secret documents. The documents pertain to Joy's whereabouts in the US which Rahman had preserved so long. Now the detectives have seized these documents," he told bdnews24.com.
He said police took Shafik Rehman with them to search his house after he had admitted to meeting the conspirators targeting Joy and having some documents related to the case as well.
"During questioning in police custody, Rehman said he had received these documents from (former) FBI agent Robert Lustyik."
DC Khaled is the supervising officer in this case that police started in May last year over the plot to abduct the prime minister's son.
He said, "Shafik Rehman had said he had information and no-one but he could find them at his home. The detectives took him with them during the raid and seized the confidential documents."
However, at a media call after the raid, DMP spokesperson Monirul Islam said the editor of weekly magazine 'Mouchake Dhil' had admitted during questioning to holding several meetings with those convicted by a US court for bribing the former FBI official to get information on Joy.
But the additional commissioner did not mention the raid at the briefing.
In 2015, a court in New York convicted US BNP leader Mahmud Ullah Mamun's son Rizvi Ahmed Caesar for bribing a former FBI agent Robert Lustyik to get the information.
It had also found their middleman, Johannes Thaler, guilty.
Lustyik was also convicted later for taking bribes for imparting the confidential information.
The New York court, in its full verdict, said Caesar had admitted that he intended to 'scare,' 'kidnap' and 'hurt' Joy.
Caesar had provided the information to 'a journalist in Bangladesh' and received 'about $30,000' for it.
After arresting Shafik Rehman on Saturday morning, police presented him before a Dhaka court and secured a five-day remand to quiz him.
The journalist, known to be close to the BNP, took the Bangladesh media by storm after becoming Editor of 'Weekly Jaijaidin' in the 1980s.
The BNP has protested and condemned Rehman's arrest.
Source: Bd news24