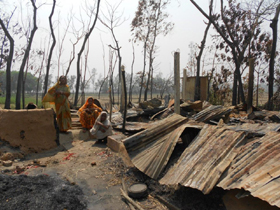 The High Court on Sunday directed the government to pay compensation to the Hindu families attacked by an angry mob in Santhia upazila of Pabna in November last year following reported derogatory remarks against Prophet Muhammad (SM) and the holy Quran by a Hindu schoolboy on social networking site Facebook.
An HC bench comprising Justice Quazi Reza-Ul Hoque and Justice ABM Altaf Hossain passed the order following a report submitted by a three-member probe panel formed to assess the losses caused by the attacks.
The court asked the government to provide compensation of Tk 43.42 lakh to 33 affected Hindu families in three weeks, said Deputy Attorney General Biswajit Roy.
The government formed the three-man police enquiry committee following a rule issued by the HC on November 3 last year.
On November 2, 2013, a group of people carried out the attacks on the Hindus at Sahapara and Ghoshpara of Bonogram village in Santhia upazila over the reported anti-Islam remarks on social networking site Facebook.
As per the probe report, 29 houses, 10 business establishments, six temples and Baroari mandir (temples) of Hindus came under attacks at Bonogram village which affected 33 families of the minority community.
As the matter was brought to the notice of the HC, it issued the rule on November 3 asking the government to deploy law enforcers to ensure safety of Hindu minorities at Bonogram.
The court also ordered the Inspector General of Police (IGB) to take action against the person who posted the anti-Islam remark on Facebook.
Source: UNBConnect