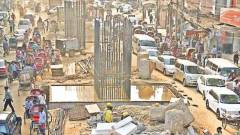 The Parliamentary Standing Committee on the Planning Ministry has decided to find out if Moghbazar-Mouchak flyover's plan contains any structural fault.
The committee has also formed a three-member sub-committee in this regard.
A press statement issued by the Parliament Secretariat said Md Tajul Islam, a member of the Parliamentary Standing committee on the Planning Ministry, is the convener of the sub-committee, and the two other members are Samshul Haque Chowdhury and Muhibur Rahman Manik.
Experts have already said there are some faults in the plan. They said foreign engineers made the plan keeping in mind that the driver's seat is on the left-hand side of the vehicle but most of the cars in Bangladesh have the driver's seat on the right.
Tajul told reporters yesterday after a meeting of the sub-committee that some observations had been made about the plan. "We want to inspect who made the plan and how it was executed. We will also examine if the flyover could be a bit long."
"Besides, we will also review the designs of other flyovers too," he added.
The press statement said because of faults in flyover plans in Dhaka, people face tailback at each end of the flyovers.
The sub-committee will not only find possible flaws in the plan of Moghbazar-Mouchak flyover but will also identify the responsible persons if there is any fault.
On January 20, Prof Mehedi Ahmed Ansary, a teacher of civil engineering at Buet, said an expert team had identified some faults in the flyover.
Yesterday, he said: "The government has finally taken an initiative but may be it is already too late."
Construction of the flyover has not yet ended but the two-kilometre stretch from Satrasta intersection to Holy Family Hospital – a fourth of the flyover's total length – was opened for traffic on Wednesday.
It was estimated to cost Tk343.70 crore when the Executive Committee of the National Economic Council approved it in 2011.
Source: Dhaka Tribune