Rupak Bhattacharjee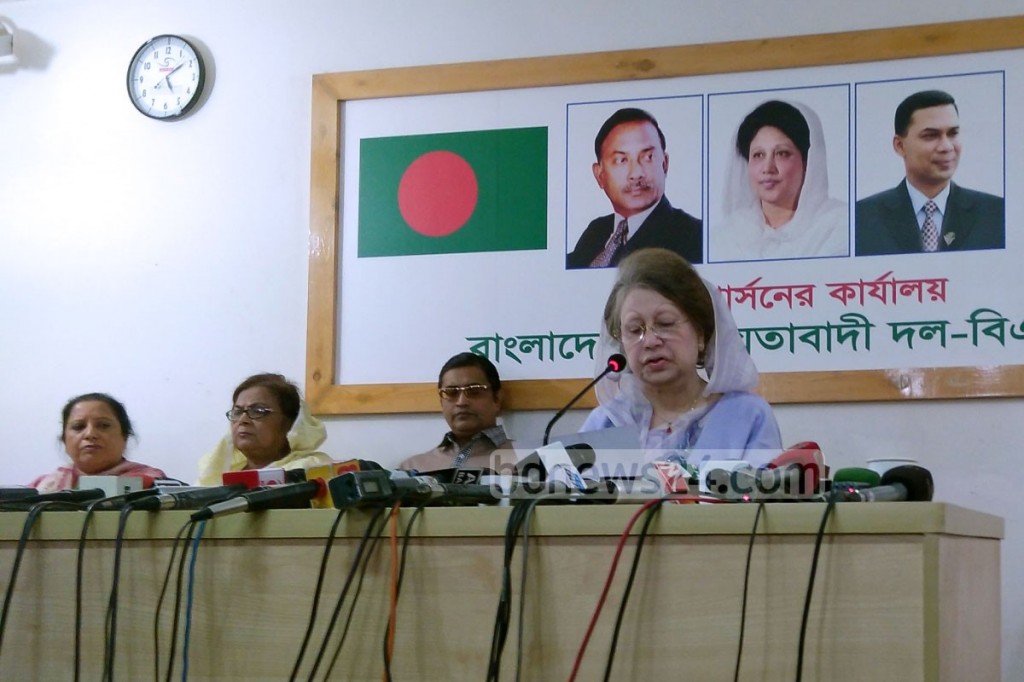 The Bangladesh Nationalist Party (BNP), which has always enjoyed a good measure of public support and ruled the country from 1991 to 1996 and 2001 to 2006 under the leadership of Khaleda Zia, is currently in disarray. There is no denying that Khaleda and her family members' alleged involvement in corruption and money laundering have eaten into her popularity in recent years. In an important development on July 21, a Bangladesh court convicted the exiled son of Khaleda for money laundering and sentenced him to seven years in prison. The court ruling assumes significance as 51 year-old Tarique Rahman, who is regarded as Khaleda's political heir apparent, could now face a ban from politics.
According to the prosecution, Tarique and his businessman friend Giasuddin Al Mamun siphoned off Tk 204.1 crore to Singapore between 2003 and 2007. Tarique, who has been living in London since 2008, is the senior vice-chairman of BNP. The recent verdict has only added to the woes of Khaleda's party that performed poorly in the local elections held this year. The BNP protested the verdict, saying it was part of the Awami League (AL) government's "political vengeance" against Tarique – the eldest son of Khaleda.
The former premier's political future also appears to be uncertain as she faces trials in at least ten cases for her alleged involvement in misappropriation of funds, loan default and instigating violence. On May 29, 2016, Bangladesh police submitted charge sheets against Khaleda and 26 BNP members to the Chief Metropolitan Magistrate's court in Dhaka for their alleged involvement in two arson attacks on buses on February 14 and March 3, 2015. The 69 year-old leader of the main opposition party could be jailed for life if proved guilty in some of the charges brought against her.
The corruption cases are equally worrisome for Khaleda. On August 8, 2011, the Anti-Corruption Commission (ACC) filed the Zia Charitable Trust graft case accusing four people, including Khaleda for abusing power in raising funds from unknown sources. Khaleda and three others were charged with collecting Tk 3.15 crore illegally and subsequently withdrawing the money from the fund in an attempt to misappropriate. Earlier on July 3, 2008, the ACC registered
the Zia Orphanage Trust graft case, charging Khaleda, Tarique and four others for embezzling over Tk 2.10 crore that came as grants from a foreign bank for orphans.
In addition to these, Khaleda and her family members have been facing trials on other corruption cases. On March 22, 2015, Bangladesh's First Money Loan court summoned Khaleda, her Malaysia-based daughter-in-law and two grand daughters to explain their positions in writing on the charges of loan default brought by Sonali Bank. On October 2, 2012, this commercial bank filed a case against the directors of their family-owned company Dandy Dyeing Limited for defaulting on a loan of $5.8 million that was borrowed on October 16, 2001. Khaleda is also confronting three more corruption cases, namely, the Niko, Gatco and Barapukuria coal mine graft cases. The ACC registered the first two cases in 2007, while the third one was filed in 2008.
The ongoing money laundering cases against Khaleda and her family members are to be viewed in the context of the institutionalised corruption that persisted during the rule of Ziaur Rahman, BNP's founder, even though many party leaders allege that the ruling AL has been engaged in conspiracy to keep Khaleda off the politics and destroy the party. Bangladesh witnessed a phenomenal growth in corruption during Ziaur Rahman's rule (1975-81). It was reported that the BNP ministers made huge fortunes in deals from export of manpower to Gulf countries and various other sources.
The Zia regime was blamed for organised corruption and theft of public wealth, especially bank money. The regime sanctioned loans to private individuals for building industries. However, on most occasions, the bank money was spent on unproductive ventures and never repaid. Besides, the regime sold more than 300 abandoned industries to BNP supporters at nominal price.
Zia did play a key role in institutionalising corruption although personally was not accused of misappropriation of public funds. He succeeded in building a chord with the common people of Bangladesh thanks to his heroic role in the country's Liberation War and honesty. But unfortunately, his family members neither have an impeccable image nor charisma like him. In order to survive in a volatile polity like Bangladesh, the BNP leaders have to think out of box to reconnect with the electorate. There is also a need to boost the morale of the party activists.
The BNP leadership should realise that indulgence in corrupt practices erodes the credibility of a party which seeks to govern a country. The voters' apathy for corrupt politicians has been well demonstrated in the national elections held in several South Asian countries, including neighbouring India in the recent period. People expect their leaders to possess integrity and deliver much needed development and governance.
In her effort to pull BNP out of its current mess and get back to the centre stage of Bangladesh politics, Khaleda has recently joined the growing popular movement against the AL government's decision to build Rampal Power Plant, which is just 14 km away from the Sunderbans. She asked the government to relocate the coal-based power plant that could threaten the delicate ecological balance of the Sunderbans. The BNP-led 20-party opposition alliance has decided to launch a mass movement against the power project.
To remain afloat in the polity, BNP leaders have been compelled to recalibrate their strategy and streamline the party organisation before the Jatiya Sangsad elections scheduled in January 2019. The major opposition party is undoubtedly in a precarious position at present but this is not the end of the road for BNP, which earlier secured popular support in two general elections. The party is likely to make a strong bid for power in the next parliamentary polls and Khaleda has vowed to bring "qualitative changes in politics" if voted to power. It remains to be seen how the party charts its course in the coming days.
Source: bdnews24