UK Minister of State for Trade and Investment Francis Maude has said Britain is keen to invest in Bangladesh. He intends to send a business delegation to Dhaka early next year.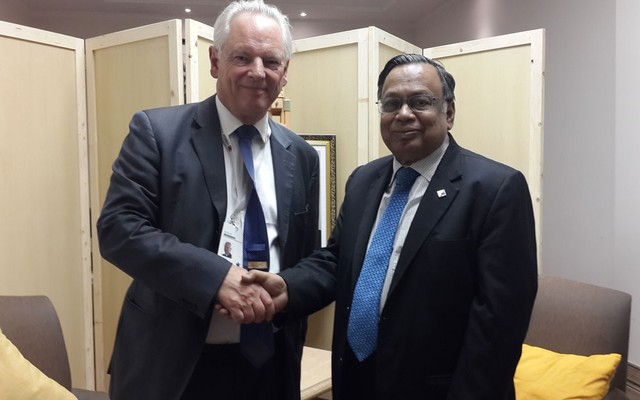 He disclosed his intention when Foreign Minister Abul Hassan Mahmood Ali, at a meeting in Malta, briefed him on huge investment and business opportunities in Bangladesh.
The meeting on Tuesday evening came before the beginning of the Commonwealth heads of governments meeting. Ali is representing Bangladesh at the Commonwealth meet, the foreign ministry said.
He briefed Maude about the major infrastructure development programmes and projects undertaken by the present government to realise its Vision 2021, and also about the 100 Special Economic Zones for foreign investors.
"It will be a missed opportunity for British investors and businessmen if they fail to take advantage of the offers currently available in Bangladesh," he said.
Recalling considerable British investment in Bangladesh, Maude expressed his interest in enhancing cooperation in different sectors, especially in infrastructure projects.
In this connection, he referred to the Paira Port feasibility study being done by British experts.
He highlighted the British expertise in complex engineering, operational and management capacities in running sea and air ports, power projects, container terminals, railways and highways and expressed keen interest of the British private sector to invest in these projects.
He also referred to British excellence in service sectors like investment financing, insurance and reinsurance services.
The Foreign Minister informed that many large projects have been taken up under Public-Private Partnership arrangements and invited British investments in those.
He encouraged British investment in ICT and Innovation parks and blue economy.
He suggested that the Bangladeshi diaspora could also be involved in such projects.
About half a million Bangladeshis currently live in the UK.
Ali discussed the difficulties facing the curry industry in the UK due to restrictions on employing chefs from Bangladesh.
He emphasised that it was not a migration issue rather a business matter which unless addressed properly could severely affect the multi-billion pound curry industry.
The British minister, on the other hand, commended Bangladesh's socio-economic progress.
Bangladesh High Commissioner to the UK Md. Abdul Hannan, Chief Executive Officer of the Public Private Partnership Office Syed Afsor Uddin, Executive Member of the Board of Investment Mohd Abduz Zaher and senior officials of the Foreign Ministry were present during the meeting.
The foreign minister reached Malta on Tuesday afternoon.
He will also be attending the Commonwealth Foreign Affairs Ministers Meeting and other events starting from Nov 25, before the heads of governments meeting from Nov 27 to Nov 29.
Source: bdnews24