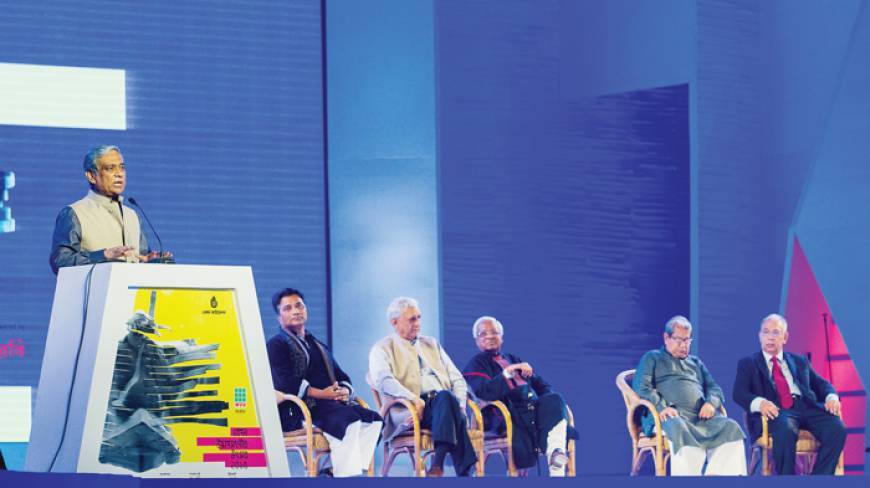 Amidst the presence of music aficionados and cultural enthusiasts at the Army Stadium, the curtain fell on the 5th and final night of the 4th Bengal Classical Music Festival 2015 on Wednesday, December 2, 2015.
The evening began with the performance of Geetobitan Bangladesh, the troupe of Animesh Bijoy Chowdhury from Sylhet. His co-artists were Kumkum Bhowmik, Noor-E-Afroz, Poresh Chandra Paul, Ruma Chanda, Shagufta Haque, Subrata Mitra and Sonia Roy. As accompanists, Alamgir Parvez played the pakhawaj and Avijit Kundu on tanpura. The troupe performed Dhamar in Raaga Desh and Chaturanga in Raaga Bhoplai. Dr Asit Roy coordinated the whole performance.
The second performance of the evening was Bharatnatyam by Vidushi Alarmel Valli. She performed Rati Sukhsari, Unnuri Vikkinan, Mutvaddura. She also performed Nritya Lohori in Raaga Abhogi. Her accompanists were Saktivel M Subramnian on percussion, V C Kesavalu on cymbals, Easwar Ramakrishnan on violin. Vasudha Ravi was the vocalist.
Following the performances came the closing ceremony. Mayor of Dhaka North Annisul Huq, executive chairman of Board of Investment Syed A Samad, Honorable Prime Minister's Advisor on Foreign Affairs Gowher Rizvi, Founder and Chairman of BRAC Sir Fazle Hasan Abed and Professor Emeritus of Dhaka University Dr Anisuzzaman were among the special guests of the closing ceremony.
The closing ceremony started with the speech of Abul Khair, chairman of Bengal Foundation. He said, "There was a crowd of 56,000 people present here last night to enjoy the performances. Most of these people were young. This proves that our future is brighter than our present."
Anisul Huq said, "Many a people only talk about darkness and despair, but there should be someone to en-kindle a light to dispel the darkness. Bengal Foundation is doing that work. So many people gathered together to enjoy chamber music is unparalleled in the history of classical music."
Expressing his gratitude towards Bengal Foundation, Gowher Rizvi said, "We will start counting days from tomorrow for the next music festival."
Honorable Indian Ambassador in Bangladesh HE Pankaj Saran said, "The success of this classical music festival will pave the path for new cultural initiatives."
Sir Fazle Hasan Abed remembered the renowned artist late Qayyum Chowdhury and said, "This festival has been enriching our culture."
Dr Anisuzzaman said, "Minds of people remain at peace when there are practices of arts and culture in the society. This is incredible that more than 50,000 people have gathered here to listen to classical music." After the closing speeches, Abul Khair handed over honorary mementos to the special guests.
After the closing ceremony Irshad Khan came on stage and performed alap, jor alap, jhala and gaut in Raaga Darbari Kanada. He concluded his performances rendering Thumri in Raaga pilu. Pandit Yogesh Shamsi accompanied the artiste with tabla.
Next in line was Sameehan Kashalkar performing Raaga Jog and Dadra in Raaga Misra Charukeshi. Suresh Talwalkar accompanied him with tabla and Ajoy Joglekar with harmonium. Talha Bin Ali and Utpol Roy accompanied him with tanpura.
Ustad Shujaat Khan performed Raaga Rageshri, alap jor, jhala. He also rendered a ghazal in the composition of Amir Khosru. His accompanists were Amit Choubey and Sapan Parag Anjaria (tabla).
Ustad Rashid Khan performed Raaga Yoga Kauns. Then he sang a traditional song: naina apni piya se lagai re. He also performed, yaad piya ki aaye, the famous thumri in Raaga Vinna Sharoj. His accompanists were: Pandit Subhankar Banerjee (tabla), Ajay Joglekar (harmonium), Murad Ali (sarangi), Krishna Bongane (vocal support) and Avijit Kundu (tanpura).
The last performance of the night was by Pundit Hariprasad Chaurasia. He played Raaga Kirwani on flute. He also performed Raaga Jait, Rupak and Teen Taal. He concluded his performance with Bhatiyali dhun. His accompanists were Pandit Subhankar Banerjee (tabla), Debopriya Chatterjee-Ranadive (flute support), Pandit Bhawani Shankar (pakhawaj) and Pushpanjoli (tanpura).
Source: Dhaka Tribune