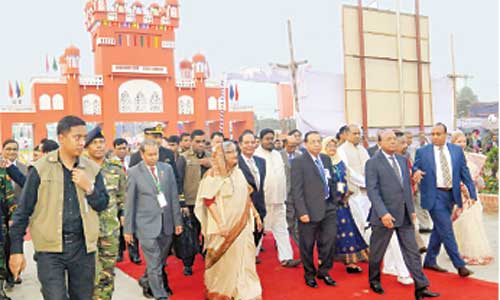 Prime minister Sheikh Hasina on Friday stressed on the importance of branding Bangladeshi products on the global market and called for improving the quality and diversification of items to fetch more foreign exchange.
'We've to stress branding local products attractively,' she said while inaugurating the month-long Dhaka International Trade Fair 2016 at Bangabandhu International Conference Centre in the capital Dhaka.
She said the demand for various products changed frequently in the world market. 'Please don't just look at its demand, but also at its branding, production and marketing.'
The prime minister said it was usually seen that one specific product which had demand in the market everybody wanted to produce that and market it. 'We always think that products will have the demand all the time, but this is not correct,' she said.
Hasina underlined the need for product diversification and exploring new international markets. 'You (businesspeople) have to find out which product has the demand in which country. You have to put in your efforts to produce that particular products and export that to that destination. Look at this matter sincerely.'
The prime minister said Bangladesh currently Bangladesh exported products worth $31 billion. 'We would like to raise it to $60 billion by 2021,' she told her audience.
Hasina urged the business community and the private sector to come forward to fulfil that goal. 'Businesspeople will do business; we'll just provide them the scope. We're not here to do business,' she added.
Commerce minister Tofail Ahmed, chairman of the parliamentary standing committee on commerce ministry Tajul Islam, FBCCI president Abdul Matlub Ahmad, commerce secretary Hedayet Ullah Al Mamun and Export Promotion Bureau vice-chairman Shubhashish Bose also spoke at the function.
Later, the prime minister visited the DITF premises at Sher-e-Bangla Nagar.
The month-long DITF began on the day with a hope of a strong turnout, as the country's political situation is much quieter than the previous year, an EPB official said.
Twenty-two countries are taking part in the fair to showcase their products being organised by the Export Promotion Bureau.
The DITF will remain open from 10:00am to 10:00pm daily. The entry fee has been set at Tk 30 for adults and Tk 20 for children.
There will be 553 stalls and pavilions at the fair this time, 56 of which have been allotted to foreign countries.
Machinery, carpets, cosmetics and beauty products, electronics, jute items, leather and sports goods, sanitary products, toys, ceramics, fabrics, processed food, furniture and handicrafts will be among the products to be showcased at the fair.
Source: New Age