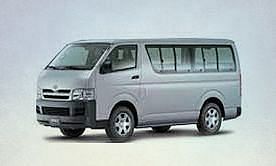 Bangladesh Reconditioned Vehicles Importers and Dealers Association (BARVIDA) called on the government to withdraw tax on microbus as it is widely used for public transportation and has a significant impact on urban and rural life, reports UNB.
Secretary general of the organisation Mohammad Shahidul Islam made this call at the post-budget press conference held in BARVIDA office Wednesday.
Mohammad Shahidul Islam said they wanted the government to provide the 45 per cent depreciation benefit on reconditioned cars and a year-round depreciation benefit but it was not included in the budget.
He urged the government to consider their proposal and include the depreciation benefit to the budget.
In this conference BARVIDA sincerely thanked the prime minister and finance minister for preparing a new budget amid pandemic that includes reduced tariffs on imports of microbuses and hybrid cars and jeeps.
They also praised the government for recognising microbuses as public transport and discouraging unsafe transport like Nasimon, Laguna, etc.
Quoting Japan International Cooperation Agency (JICA), BARVIDA leaders mentioned that the establishment of a new car industry in the country would be reasonable only if the domestic market for the car is 100,000 units.
They pointed out that in some cases, the price of a reconditioned car gets higher than that of a new car due to extreme inequality in the tariff. As a result, buyers are declining, importers are declining and traders in the sector are facing a severe financial crisis.
BARVIDA also called on the government to ensure that no attempt is made to establish a "screwdriving industry" by importing CKDs (Complete Knock Down) in the name of establishing a new industry.
They urged the government to do its utmost ensuring that the country's long-established reconditioned car import sector is not harmed in any way at the free market economy.
Abdul Haq, president of the association along with the executive members and general members of the organisation were present at the conference.