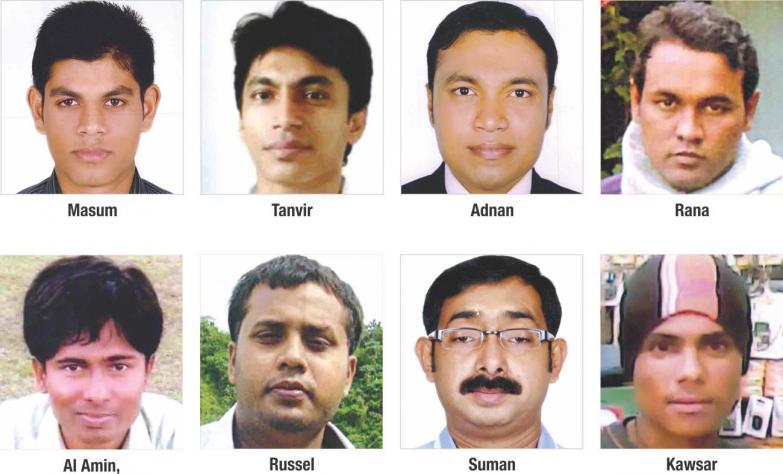 Arwa, aged five, stands still for long staring at a photo of her father, Sajedul Islam Suman. She hasn't seen him or been caressed by him in two years. Although she has begun to faintly feel a sense of loss, she still does not understand why her father disappeared the way he did.
"She doesn't cry. But we can sense a vacuum has been created in her," said her aunt Sanjida Islam.
Suman, along with seven others, has gone missing from the capital since December 2013. Their families allege all of them were victims of "enforced disappearance" by Rapid Action Battalion.
Rab-1 picked six of them, including Suman, from the capital's Bashundhara Residential Area and two others from Shaheenbagh between 8:00pm on December 4 and 2:00am on December 5, according to the families.
The seven others are Zahidul Karim Tanvir, Mazharul Islam Russel, Abdul Quader Bhuiyan Masum, Asaduzzaman Rana, Al Amin, Adnan Chowdhury and Kawsar Ahmed.
Like in the previous year, the families will hold a programme at the capital's Jatiya Press Club today to mark the second anniversary of their alleged disappearance, demanding the government's intervention to reveal their whereabouts and ensure their return. All the families, like Suman's, have poignant stories to tell.
"Ever since we heard that there'll be another programme to press home our demands, mother has started counting days," shared Arju, elder brother of Masum.
"We've shifted to a new house. So, we had to pack Masum's clothes in a separate box. Whenever mother sees it, she starts crying," he said.
In addition to writing to the home ministry, the families formed human chains and arranged press briefings several times, seeking help from the government to know whether they were detained or dead or alive. But all their efforts went in vain.
Nur Khan, director of rights body Ain O Salish Kendra, said it was the responsibility of the state to find out the eight, and if they were in custody, proper legal steps should be taken or they should be freed.
Despite repeated pleas, no visible steps had yet been taken by the government over any incident of "enforced disappearance", he said.
"We're saying the country is doing well. At the same time we hear the news [of enforced disappearances]. It makes a dark contrast," Nur observed.
According to family sources, Sajedul, general secretary of ward-38 of BNP's Dhaka city unit, had been staying out of home fearing arrest. They said he sometimes used to spend nights at his cousin Tanvir's house.
On the evening of December 4, Sajedul was hanging out with Tanvir, Russel, Masum, Rana and Al Amin beside a road near Tanvir's under-construction building at Block-I in Bashundhara.
"Around 8:00pm, some 15 Rab personnel reached there and picked up the six," Sajedul's sister Sanjida said, quoting a construction worker who claimed to have witnessed the whole incident.
Al Amin's family lodged an abduction case against some unidentified people with Bhatara Police Station on January 26. This is the only case filed in this connection.
His relative Yakub said there was no progress in the investigation and deeply frustrated, they stopped asking about it.
"Al Amin's parents are passing the worst time. But we could not do anything for them," said Yakub.
Rana, who was from Rangpur, had been staying at his sister's place in the capital and preparing for the BCS exams at the time of the incident.
One of his relatives, who also live in Dhaka, told The Daily Star that they had looked for him in every possible place. They had gone to the law enforcers as well.
"But we've always returned empty-handed," he said, wishing anonymity.
Adnan and Kawsar were allegedly picked up from their Shaheenbagh houses.
According to Adnan's family, a group of seven to eight people carrying firearms entered their house and took Adnan away, saying they needed to interrogate him for some information. They used two vehicles and one of those had 'Rab' prominently inscribed on it.
Adnan's father Ruhul Amin still believes his son is alive and will come back to him someday.
Contacted, Lt Col Tuhin Mohammad Masud, commanding officer of Rab-1, denied that Rab was involved in picking them up.
He, however, said they had received allegations from some of the victims' families about these disappearances.
"We enquired into the allegations but could not trace them out," he said, adding they are still trying to find them out.
According to Ain O Salish Kendra, in 2013 as many as 68 persons were abducted reportedly by law enforcers. Last year the number was 88, 42 of whom never returned while bodies of 23 were found later.
Between January and October this year, as many as 47 persons have been picked up allegedly by law enforcement agencies, says the rights body.
Source: The Daily Star