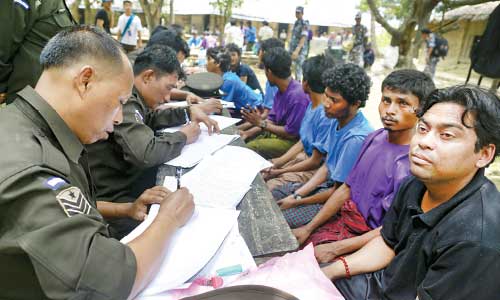 The government has initiated measures to identity the nationality of over 1,100 migrants rescued at sea by Malaysia, Indonesia, Thailand and Myanmar to bring Bangladesh nationals back home.
The South-East Asia wing director general of the foreign affairs ministry, Ashud Ahmed, told New Age Saturday, 'We have got lists of 603 migrants rescued by Malaysia, 237 by Indonesia and 138 by Thailand. Our missions there are working to ascertain their nationality.'
He said that the Bangladesh embassy in Myanmar had also sought consular access to around 200 migrants recently rescued by the Myanmar navy.
'We will take initiatives to bring the Bangladesh nationals back after confirming their identities,' he added.
More than 3,500 migrants have so far swum ashore or been rescued off the coasts of Malaysia, Indonesia, Thailand and Bangladesh since a Thai crackdown on human-trafficking in early May, according to news agencies.
In a breakthrough in the region's migrant crisis, Malaysia and Indonesia on May 20 announced that they would no longer turn away boatpeople after hundreds more starving people, mostly from Bangladesh and persecuted Rohingya minority of Myanmar, were rescued at sea.
Myanmar, whose policies toward its ethnic Rohingya minority are widely blamed for fuelling the human flow, also softened its stand by offering to provide humanitarian aid to migrants.
A group of migrants recently rescued by Myanmar will be deported to Bangladesh, Myanmar officials said Saturday as United Nations secretary-general Ban Ki-moon called on regional nations to prioritise saving the lives of those still stranded at sea, Agence France-Presse reported.
The UN secretary general said that he hoped regional nations would tackle the 'root causes' of the current exodus at an upcoming conference in Thailand later this month.
Southeast Asia is currently battling an exodus of boatpeople fleeing persecution and poverty, with up to 2,000 vulnerable migrants thought to be stranded in the Bay of Bengal, many at the mercy of ruthless people smugglers, according to the news agency.
Most of them are Muslim Rohingyas from the western Rakhine state in Myanmar, where they are not recognised as citizens.
Myanmar has faced increasing international pressure to stem the deluge from its shores and deliver urgent humanitarian relief to thousands still trapped at sea.
On Friday the country's navy said it had carried out its first rescue of a migrant boat when scores of bare-chested men were found crammed into the hull of the wooden fishing vessel and taken to shore.
Myanmar officials claimed all 208 men were from Bangladesh and would soon be returned there. AFP was not able to independently verify where the migrants were from, the report mentioned.
'We are giving humanitarian assistance to them. After that we will deport them back to the relevant country,' presidential office director Zaw Htay was quoted by AFP as saying.
Most migrants aim for Malaysia and Indonesia using dangerous and lucrative smuggling networks that criss-cross the region.
Myanmar has seen surging Buddhist nationalism in recent years and spates of violence targeting Muslim minorities have raised doubts over its much vaunted reforms after decades of harsh military rule.
A transnational racket lures the poor in Bangladesh into their traps offering good jobs abroad and finally forced them to risky sea journey, mainly through Cox's Bazar coast, for ultimate destinations in Malaysia and beyond. Many the migrants are detained in camps located in remote jungle along Thai borders to realise ransoms from them.
Source: New Age