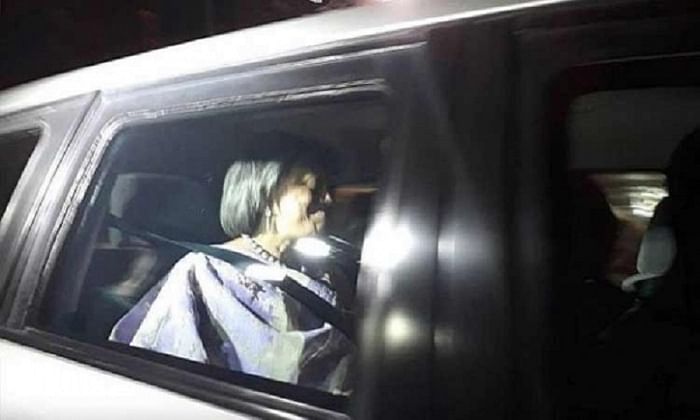 While the police have failed to nab those involved in the attack on the motorcade of former US ambassador Marcia Bernicat, the investigating officer in the case has 'read their minds.' In the charge sheet he has said that the accused had launched the attack on Marica Bernicat's motorcade as they had thought that "an anti-government conspiracy was underway."
Speaking to Prothom Alo on Saturday, Dhaka Metropolitan Police (DMP)'s Detective Branch (DB) Tejgaon zone inspector and investigating officer in the case, Abdur Rauf, said none of the nine persons named in the charge sheet have been detained or arrested. They have not been interrogated. If so, how could the objective of the attack be ascertained? In reply to this question, he said, "I came to know about this through our sources."
When asked if any efforts were being made to arrest the accused, the investigating officer said three others had investigated the case before him. He and those other three had attempted to catch the accused, but it hadn't been possible.
Another one of the accused, Mohammedpur thana Chhatra League joint general secretary Mir Amjad Hossain alias Akash told Prothom Alo, the investigating officer of the case Abdur Rauf had called him over phone and took his name and address. Then he himself had called Abdur Rauf, wanting to meet him, but the Rauf did not want to meet him.
This is just another example of how our law enforcement is used for political purposes
Shahdeen Malik, Eminent Lawyer
Another accused in the case, Sher-e-Bangla Nagar thana Awami League's youth and sports affairs secretary Shahidul Alam Khan alias Kajol, said no one had questioned him in this regard. A member of the police once came to his house and took down his name and address.
All three of accused claimed they had not been present in the area when the incident took place. Mir Amjad claimed that he and his friend, Shaju Islam alias Shaju (also an accused in the case) had been in Shewrapara of Mirpur, attending a friend's wedding. They learnt about the attack upon their return.
Shaju Islam said they had a medicine shop on Iqbal Road, Mohammadpur (the road where the attack on the motorcade took place). On that day he had left his younger brother Rajibul Islam in the shop and had gone to the wedding at Shewrapara. But his brother Rajibul had also been named as an accused.
Marcia Bernicat's motorcade was attacked at Iqbal Road, Mohammadpur in the capital city on 4 August 2018. She had been the US ambassador at the time. She had been attending a dinner at the house of SHUJAN (Citizens for Good Governance) secretary Badiul Alam Majumdar. Armed persons attacked her motorcade when she was on the way home after the dinner. Six days after the attack, on 10 August 2018, Badiul Alam Majumdar filed a case regarding the incident at the Mohammadpur police station.
This charge sheet reflected the culture of lawlessness and lack of justice
Badiul Alam Majumdar, Plaintiff
Almost two and a half years after the attack on Bernicat's motorcade, DB submitted in court a charge sheet against nine Chhatra League men. While the charge sheet was submitted on 18 January to the Dhaka chief metropolitan magistrate (CMM)'s court, the matter only came to light on Friday, almost one and a half months later.
Badiul Alam Majumdar, speaking to Prothom Alo about the charge sheet, said this charge sheet reflected the culture of lawlessness and lack of justice. He said he would consult his lawyer and decide on the next steps.
Marcia Bernicat had arrived in Dhaka on 25 January 2015 as the US ambassador. She remained in this office for four years till 2 November 2018 after which she returned home.
The first accused in this case, Firoz Mahmud, is from Arji Kalikapur village of Barishal. When Awami League presidium member and former state minister Jahangir Kabir Nanak was the MP of the Mohammadpur area, Firoz would visit his office regularly. But, local leaders of Mohammadpur said, he had no post in Awami League or Chhatra League.
Accused Naimul Hasan alias Russel was the Mohammadpur thana Chhatra League general secretary. Accused Siam was a candidate for the post of general secretary of Ward no. 29 Chhatra League in Dhaka South City Corporation. Accused Oli Ahmed alias Jony, was a contender for the post of general secretary of Ward no. 21 Chhatra League.
In the charge sheet, the depositions of 19 witnesses have been taken. Three of them include plaintiff of the case Badiul Alam Majumdar and members of his family. Eleven are members of the police. Of the other five, Shamim Ahsan is the owner of the house opposite Badiul Alam Majumdar's residence. Speaking over mobile phone to Prothom Alo on Saturday, he said he hadn't been in the area when the incident took place. He arrived later and the police had questioned him. However, he did not know anything about who launched the attack or why, and so could not tell them anything. The police hadn't informed him that he would be made a witness in the case.
Another witness, Md Sujan Miah, had been on duty as supervisor at Shamim Ahsan's house when the incident took place. He now lives in his village home at Jamalpur. When the list of names of the accused was read out to him over mobile phone on Saturday, he said he did not know any of them. He didn't even know that the police had made him a witness in the case.
He said on the day of the incident, he had just watched the incident from the fourth floor of the building and had seen stones being thrown and people running around, but did not see who they were.
The security guard of Shamim Ahsan's house Md Zaman, speaking to Prothom Alo on Saturday, said he had no idea that he had been made witness in the case. He first learnt about it from this correspondent.
The investigating officer said that no one wants to speak if they were told they would be made witnesses. That is why their names, addresses and statements were taken at the spot, and they were later made witnesses.
Concerning the accused not being arrested though they were contacted over phone and also about making witnesses without informing the concerned persons, eminent lawyer Shahdeen Malik said, "This is just another example of how our law enforcement is used for political purposes. The US always takes very sternly and seriously any attack on their ambassadors."
He said many cases are taken lightly because of political reasons, but it was hoped that in consideration of relations with the US, the law enforcement agencies would at least take this case seriously.
* This report appeared in the print and online edition of Prothom Alo and has been rewritten in English by Ayesha Kabir