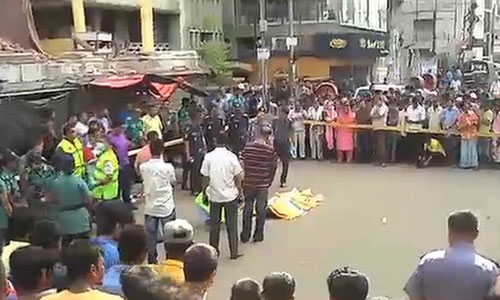 Unidentified assailants gunned down the wife of a superintendent of police, now stationed at police headquarters, at Panchlaish in Chittagong city on Sunday.
The victim Mahmuda Khanam Mitu was wife of Babul Akter, superintendent of police of police headquarters, who had earlier served in different positions in Chittagong and Cox's Bazar.
Mitu was going to GEC intersection from her residence at OR Nizam Road with her son to get him on a school bus around 6:45am.
Mohiuddin Mahmud, officer-in-charge of Panchlaish police station, said the attack was hurriedly carried out in less than five minutes.
Police said a gang of three attackers riding a motorcycle hit Mahmuda with their bike when she was getting her son, Mahir Akhter, onto a bus of Chittagong Cantonment Public School and College. As she fell down, the attackers first hacked her. When screamed out, the attacker shot her in the head from point blank range, police added.
Police found one used cartridge and three live cartridges from the spot.
Babul had played significant role against militants and before his transfer to police headquarters, he served as deputy commissioner of detective branch in Chittagong.
Police officials said Babul was supposed to join counter terrorism unit of Dhaka Metropolitan police shortly.
Trained in the US and China, Babul had expertise in counter terrorism and had conducted a number of operations in Chittagon and Cox's Bazar. He had been facing threats since busting a den of militant group Jamaatul Muhajhideen Bangladesh on the outskirts of Chittagong.
Source: new age