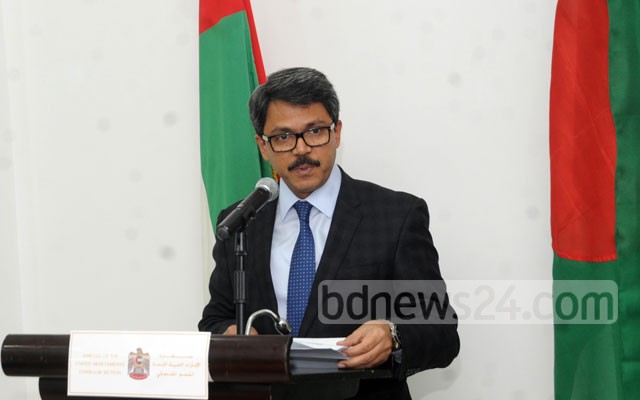 State Minister for Foreign Affairs Md Shahriar Alam has termed Islamabad's action against a Bangladeshi diplomat a "face-saving" effort.
Bangladeshi diplomat, Maushumi Rahman, is leaving Islamabad to Lisbon on Thursday, as Pakistan has asked Dhaka to withdraw her in response of taking back its 'terror-linked' diplomat Fareena Arshad.
The second secretary (political), Fareena, was withdrawn on Dec 23, and Dhaka was prepared to take back its Political Counsellor Maushumi immediately as reciprocity takes place in diplomacy in this type of issue.
But Islamabad waited two weeks before asking Dhaka on Tuesday to take her back.
The state minister said the Bangladesh government was expecting Pakistan's retaliation and had taken preparations to transfer Moushumi from Islamabad to Lisbon.
He told journalists on Wednesday that Islamabad could not cite any reason when it asked the Bangladesh High Commissioner to send back the Counsellor.
This was the first official comment from Dhaka on the recent spat in Bangladesh-Pakistan relations.
The bilateral relations have reached a low over Islamabad's comments on Dhaka's domestic issue, and after a Pakistani diplomat was found linked with banned militant outfit JMB.
Islamabad earlier rejected all terror-link claims against that diplomat, Fareena.
Bangladesh won independence from Pakistan in 1971 after nine months of bloody war in which three million people were killed and hundreds of thousands of women were violated.
In 2010, the government started trying those Bangladeshis who had committed crimes against humanity in collaboration with the Pakistani occupation forces.
The Pakistan foreign ministry recently voiced "deep concern and anguish" over the executions of war criminals Salauddin Quader Chowdhury and Ali Ahsan Mohammad Mujahid.
It also said: "Pakistan is deeply disturbed" over those executions.
The reaction prompted Dhaka to summon Islamabad's envoy and strongly protest the comments. Islamabad, as a counter reaction, summoned Bangladesh acting high commissioner.
The state minister said Bangladesh would continue to maintain its bilateral relations as usual.
"But we are also observing the situation closely," he said, "We'll not compromise our national interest."
He said Bangladesh would not spare anyone trying to destroy the country's image, exploiting diplomatic immunity.
Last year in January, Islamabad had to withdraw its official Mohammad Mazhar from Dhaka after he was caught red handed with fake currency.
The 1961 Vienna Treaty on Diplomatic Relations, which codifies concepts such as diplomatic immunity and the inviolability of embassies, gives states scope to kick out diplomats.
Article 9 states: "The receiving state may at any time and without having to explain its decision, notify the sending state that the head of the mission or any member of the diplomatic staff of the mission is persona non grata or that any other member of the staff of the mission is not acceptable.
In any such case, the sending state shall, as appropriate, either recall the person concerned or terminate his functions with the mission".
Under the convention, diplomats are usually given 72 hours to leave the country.
Moushumi is scheduled to leave for Lisbon on Thursday, officials said.
Source: Bd news24