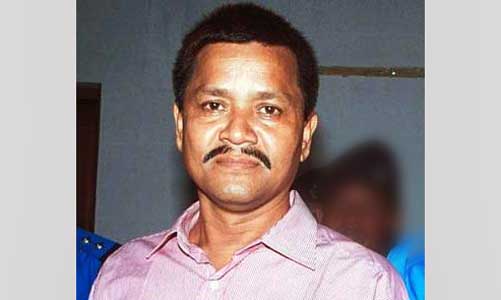 Bangladesh has handed over Indian separatist leader Anup Chetia to Indian authorities on Wednesday.
Bangladesh's home minister Asaduzzman Khan in the afternoon told newsmen at his office that Anup Chetia along with Babul Sharma and Lakkhi Prasad had crossed the Bangladesh-India border early in the morning.
Earlier in the morning, the minister had said he has no such information.
'Anup Chetia has been released from jail along with two of his accomplices as their detention term was over. The Indian high commission in Dhaka was informed of it. They crossed the border in the morning,' the minister said.
Officials at home ministry said three crossed Bangladesh-India border in presence of Border Guard Bangladesh and Border Security Force of India.
After Anup's returning back to India, the Indian Prime Minister's Office twitted, 'PM @narendramodi spoke to Bangladesh PM Sheikh Hasina. He wished PM Hasina on Diwali & thanked her for the help in fighting terrorism.'
Anup, general secretary of United Liberation Front of Asom, was arrested by Bangladesh police in 1997. Since then, India was pursuing Bangladesh government handover him.
Chetia was handed over to India in the morning at the personal intervention of prime minister Narendra Modi and through active involvement of national security adviser Ajit Doval, reports Press Trust of India.
Indian Express reported the top ULFA leader was handed over to the CBI by the Bangladesh government on Wednesday.
Chetia is wanted in cases of murder, kidnapping and extortion. The ULFA leader was detained in Bangladesh for illegally entering the country using a forged passport, and was found in possession of arms and foreign currencies.
A Bangladesh court sentenced the militant leader to seven years in prison. The Indian government could not extradite him earlier due to the lack of an extradition treaty between India and Bangladesh.
However, the Sheikh Hasina government were open to releasing him to authorities in India in their fight against terrorism.
The PTI earlier reported that handing over Anup followed a 'swap deal' between Dhaka and New Delhi to hand over two most wanted criminals to Bangladesh.
Subrata Bain and Sajjad Hossain, currently in Indian jails, will be handed over to Bangladesh once the 'swap deal' is finalised for bringing back the top ULFA leader.
Though no time frame has been fixed for the 'deal', it may happen by the end of this year.
New Delhi also assured Dhaka of full cooperation to track down killers of Bangabandhu Sheikh Mujibur Rahman, official sources said.
Both Subrata Bain and Sajjad Hossain were handed death sentence by Bangladeshi courts for murder and grenade attack on an Awami League rally in Dhaka.
Bain was arrested in Kolkata last year, 18 days after his escape from a jail in Nepal. His name featured in the 23 top wanted men list Bangladesh handed over to India in 2008.
Hussain was arrested in Amritsar while trying to cross over to Pakistan. He was carrying fake Indian currency notes at the time of his detention.
source: New Age