Bangladeshis are 'largely anti-India', Professor Emajuddin Ahamed claims, and blames that country's relations with the Awami League for such sentiments.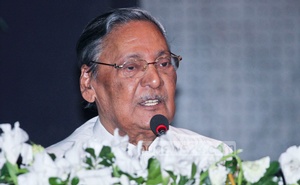 Former Dhaka University vice-chancellor Emajuddin, one of the key advisors to BNP Chairperson Khaleda Zia, made the remarks at an event in Dhaka on Thursday.
On Wednesday, Khaleda spoke at a news conference protesting against the Rampal power plant project, an India-Bangladesh joint venture near the Sundarbans.
Emajuddin, the retired political science professor, recalled how India helped Bangladesh during the Liberation War and asked, "Why no-one in Bangladesh can tolerate India today? Why they are so anti-Indian? It should not have happened."
"They are anti-India because of your relations with the sitting government of Bangladesh," he said in an apparent reference to Indian Prime Minister Narendra Modi.He urged the Indian government to take measures to build relations with 'the people of Bangladesh, not any particular party'.
"Democracy is flourishing in India magnificently. Your (Modi's) country has adopted the system, then why not here? Why don't you utter a single word on the matter?"
The pro-BNP professionals' leader also slated Prime Minister Sheikh Hasina's administration for being 'very weak' towards India.
He said Hasina should scrap the Rampal plant project, keeping in mind that she won Champions of Earth award for her contribution to tackling climate change.
Environmental groups are worried that the power plant's presence could alter the critical water balance in the Sundarbans, pollute the surrounding water and air, and increase the risk of oil and coal spills, all of which they say could seriously damage the mangrove forest.
Source: bdnews24