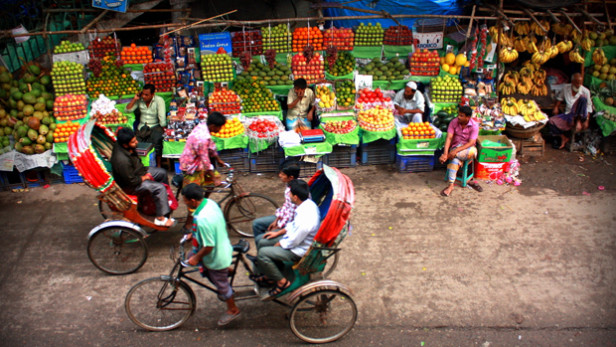 Much of the huge development success seen over the past decades has been achieved thanks to innovative solutions that have been scaled up.
Conditional cash transfer programs like Brazil's Bolsa Família have proved effective in reducing poverty and ensuring that children attend school and are vaccinated. Innovative financing mechanisms supported by the Bill & Melinda Gates Foundation and others have contributed to the immunization of hundreds of millions of children. UNITAID has pioneered financial schemes such as the airlines ticket levy to fund lifesaving medicines. Muhammad Yunus and others made microcredit a worldwide tool for credits to those who in the past were considered too poor for a bank loan.
Extreme poverty has been halved and progress has been made on all Millennium Development Goals. However, more innovative solutions will need to be taken to scale if we are to end poverty, green our economies and to make sure that all the children now going to school actually learn something!
This is the objective of the Organization for Economic Development and Cooperation's DAC Prize for Taking Development Innovation to Scale, launched for the first time this year to support scaled-up ideas that work in the real world, and recognize people who have taken an innovative approach to a wider application.
Katalyst from Bangladesh is the worthy winner of the 2014 edition, and shows how simple business ideas can have a big impact on people's lives.
The concept is based on providing high-quality seeds in minipackets to poor farmers as a means of helping increase their income. Over three seasons, the number of beneficiaries doubled and $14 million worth of additional vegetables were produced. This success has encouraged more seed companies to introduce minipackets. Katalyst is supported by Denmark, Switzerland and the United Kingdom, and implemented by SwissContact under the umbrella of Bangladesh's Ministry of Commerce.
The DAC Prize received almost 50 fantastic submissions and financial innovations in our first year.
Among the finalists were Aavishkar II, an Indian social venture fund that offers risk financing to social entrepreneurs; the Kwara State Community Health Insurance Program to provide health insurance for 80,000 families; Nomanini, a company that delivers cash-based micropayments and prepaid mobile services to people without access to banking services; and the Polio Eradication Project in Pakistan, which works through a loan conversion financing mechanism that repays investments when polio eradication targets are met.
Other finalists focus on the importance of ensuring quality education now that more than 90 percent of children are enrolled in school like the Annual Status of Education Report, a citizen-led household survey of education covering every rural area in India. Bridge International Academies provides quality affordable education while covering operational costs, teacher salaries and textbooks from student fees. Camfed International supports girls completing secondary education and transitioning to getting a job. The Employment Fund Program in Nepal gives skills training to 15,000 people and ensures market incentives for companies training for women and vulnerable groups. Finally, Evidence Action uses cheap and effective chlorination to ensure access to safe drinking water for 1.5 million people by scaling up a simple technology that has become accepted and used regularly by local communities in Eastern and Southern Africa.
The DAC Prize seeks to mobilize more investment into such scalable solutions, not least from our members. Congratulations again to the winner and all the finalists! Submissions for 2015 will open soon.
Source: Devex