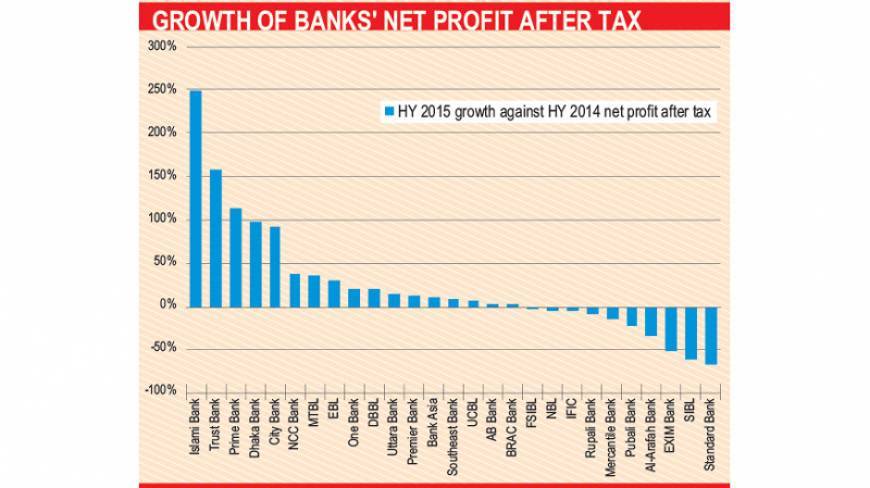 Almost 60% of the listed banks have witnessed an inflated bottomline in the first half of this year, despite fall in lending and deposit rates as well as political unrest in the first quarter 2015.
The banks made profits after keeping provision for tax thanks to the central bank's continued relaxation in loan provisioning norms, say analysts and bankers.
However, some banks struggled to boost their earnings because of some factors, including foreign loan inflow, drop in interest income in the wake of falling interest rate, that had affected their incomes to some extend.
A total of 17, out of 29 listed banks (ICB Islamic Bank is yet to publish), reported positive sign in their respective net profits during the first half of the current year while Islami Bank was leading with a jump of 249% to over Tk339 crore, reads the banks' half-yearly statements.
Trust Bank became second with 158% while Prime Bank third with 114% in net profit.
Net profit growth of both the two banks-Dhaka Bank and City Bank, rose more than 90%, which was particularly triggered by their operating performances.
Standard Bank, SIBL, Exim Bank and Al-Arafah Bank were the worst performers in profit earnings as they failed to make any profit.
"Continued ease in provisioning norms have gave will on the earning of some banks," said Mohammed Nurul Amin, managing director of Meghna Bank.
He observed that factors like foreign loan borrowed by local entrepreneurs and recent falling interest rates held back some banks' profitability.
About the banks' future prospects, he explained that the country's export-import situation was slowly improving but this is not good enough to spur the banking sector.
Over the last few years, Bangladesh Bank continued to relax loan provisioning for banks against the rising bad loans.
Banks need to maintain a provision coverage ratio a certain amount of their gross bad loans.
According to Bangladesh Bank, the weighted average deposit rate fell from 7.71% in July 2014 to 6.99% in May 2015. The average lending rate fell from 12.84% in July 2014 to 11.82% in May 2015.
Net income from interest of 19 banks grew significantly mainly due to better spreads management resulted from earlier deposit rates adjustment, said an analysis of IDLC.
Among those, MTBL's interest income rose 120%, followed by Uttara Bank 93% and Pubali Bank 73%.
However, rise in bank profits has so far failed to attract stock investors because of rising bad loans that eat up the profit of the banks, analysts say.
Bad loans rose 8.97% in the first quarter of the current year to Tk54, 657crore owing to political unrest during the period, according to the central bank and bankers.
Source: Dhaka Tribune