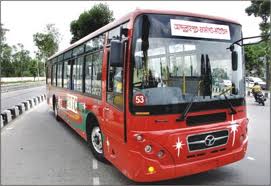 Communications Minister Obaidul Quader on Sunday said Bangladesh Road Transport Corporation (BRTC) will soon introduce 300 new buses in the capital aiming to reduce traffic jam.
He came up with the information while talking to reporters after inspecting traffic situation at Gulistan intersection.
Of the buses, 200 will be double-decker ones while the rest articulated ones, Obaidul said, adding that the BRTC has already got the government approval to run the buses in the capital.
The minister also said 100 air-conditioned minibuses will ply the city roads at private sector initiatives to ensure comfortable journey for commuters. "We're working hard to reduce traffic jam from Dhaka city. However, it's not possible to remove traffic jam overnight."
A drive is going on to remove illegal structures on roads for improving the traffic situation in the city, he said, adding that another drive will be launched to reclaim footpaths.
Issuing a note of warning to the grabbers, the minister said if they do not remove their illegal structures on roads willingly, they will have to face the music.
Meanwhile, a mobile court of BRTA sent an age-old vehicle to dumping and seized nine engine-run auto-rickshaws during a drive at Gulistan in the presence of the minister.
Source: UNBConnect